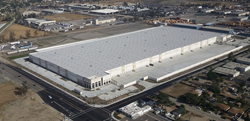 "Finding flexible solutions to satisfy our clients complex distribution needs."
Iselin, NJ (PRWEB) October 05, 2016
Taylored Services, a national leader in distribution, fulfillment and warehousing headquartered in Iselin, New Jersey, has been named an Inbound Logistics 2016 Top 100 3PL Provider for the 2nd consecutive year. By demonstrating strong supply chain expertise, strategic vision, and a true sense of client partnership in providing flexible solutions, Taylored Services is recognized on this select list of best in class service providers, handpicked by the Inbound Logistics editors.
The Inbound Logistics' Top 100 3PL Provider's list serves as a qualitative assessment of service providers the publication feels are best equipped to meet evolving outsourcing needs. Each year, Inbound Logistics editors select the best logistics solutions providers by carefully evaluating submitted information, conducting personal interviews and online research, and comparing that data to shippers' expanding global supply chain and logistics challenges.
Taylored Services is focused on providing flexible solutions to their customer's fulfillment and distribution challenges, utilizing excellent customer service practices, and a strong entrepreneurial spirit. Taylored Services continues to expand their distribution footprint and has recently added a new facility located in Fontana, CA. Additionally, Taylored recently completed a retro-fit of their Edison, NJ to accommodate the large increase in Direct To Consumer (ecommerce) business they are handling. "We have been experiencing double digit growth in our DTC, unit fulfillment services over the past two years. We have adapted our Edison facility to handle the higher SKU counts associated with this mode of fulfillment" says Taylored CEO, Jim Deveau.
"3PLs have always provided tactical, operational results. But their strategic input has also become increasingly important to outsourcers," explains Felecia Stratton, Editor, Inbound Logistics. "3PLs that are consultative, proactive, take the lead in sharing best supply chain practices, and help to drive enterprise business process improvement rank high in importance to Inbound Logistics readers."
Inbound Logistics editors recognize that Taylored Services provides the kinds of solutions that companies large and small rely on to solve the tactical logistics issues of serving customers better, faster, and more efficiently. Taylored is flexible, responsive, and continues to anticipate evolving needs by also offering the strategic solutions required to drive business process improvement and change for customers.