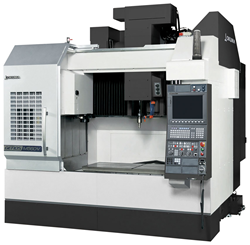 Charlotte, NC (PRWEB) October 05, 2016
The new GENOS M560-V vertical machining center, combines a new high column design and CAT 40 BIG- PLUS® spindle to cut large, complex parts. The larger work envelope minimizes restrictions on workpieces, tool lengths and the rotary table. A highly rigid, thermally-stable, double-column construction gives this CNC machine the ability to withstand thermal deformation, resulting in improved machining performance. It's also one of the heaviest machines in its class.
A powerful 30 hp spindle with 146 ft. lbs. of torque allows this machine to cut challenging metals such as titanium and Inconel as well as stainless steel and aluminum. A separate automatic tool changer door makes tool changing seamless without interrupting the machining process. The table moves only in Y, while the spindle moves in X & Z, enabling a smaller machine footprint, rapid feed rates, precise cutting and smooth surface finishes. Coupled with a user-friendly design and energy-saving technology, the GENOS M560-V truly delivers machining excellence.
Thermo-Friendly Concept, Okuma's proprietary thermal deformation compensation technology is standard on this machine. Pretension ball screws and bi-directional spindle cooling allow for better control of the machining process. Optional Collision Avoidance and Machining Navi Intelligent Technologies are available.
Key Specs of the GENOS M560-V Vertical Machining Center:
•Max Machining Volume, mm (in) 1,050x560x460 (41.34x22.05x18.11)
•Table Size, mm (in) 560x1300 (22.05x51.18)
•Max. Load Capacity, kg (lbs) 900 (1,980)
•Spindle Speed, min⁻¹ 15,000
•Spindle Motor Power, kW (hp) 22/18.5 (30/25)
•Rapid Traverse, m/min (ipm) X-Y 40, Z: 32 (X-Y: 1,575, Z: 1,262)
•Magazine Capacity 32 Tools
For more information on Okuma's GENOS M560-V visit http://www.okuma.com/genos-m560-v .