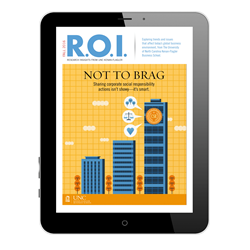 Chapel Hill, N.C. (PRWEB) October 04, 2016
The University of North Carolina Kenan-Flagler Business School has published a new edition of its research magazine, R.O.I.
R.O.I. showcases research insights and best practices from UNC Kenan-Flagler faculty. It also provides information about the professors and the scope of their work.
The award-winning R.O.I. is published as an iPad app with videos and interactive features. Download the free app at the iTunes Store. It also can be read on a desktop computer.
This issue of R.O.I. features research on:

A new model that pinpoints airline delays
The impact corporate social responsibility (CSR) can have on shareholder value
How Dow Chemical has the formula for company learning
Business opportunities created by aging baby boomers
How hospitals can cut costs by upgrading accounting systems
The chief marketing officer's contributions to the bottom line
The impact of uncertainty aversion on financial decision making
The global brand "value chain" and how brand equity factors into shareholder value
A tax rate decrease for both multinational and domestic firms over 25 years
"Our faculty's research – recently ranked No. 10 in the world – is recognized for making an impact on both academic scholarship and business practice," said David Hofmann, senior associate dean for academic affairs and the Hugh L. McColl Distinguished Professor of Organizational Behavior. "We share these insights through R.O.I. so that both business professionals and academics can learn about and apply the latest thinking to their current and future challenges."
About the University of North Carolina Kenan-Flagler Business School
Consistently ranked one of the world's best business schools, UNC Kenan-Flagler is known for its collaborative culture that stems from its core values: excellence, leadership, integrity, community and teamwork. Professors excel at both teaching and research, and demonstrate unparalleled dedication to students. Graduates are effective, principled leaders who have the technical and managerial skills to deliver results in the global business environment. UNC Kenan-Flagler offers a rich portfolio of programs and extraordinary, real-life learning experiences: Undergraduate Business, full-time MBA, Executive MBA Programs (Evening, Weekend and global OneMBA®), online MBA@UNC, UNC-Tsinghua Dual-Degree EMBA, Master of Accounting, PhD, Executive Development, and UNC Business Essentials programs. It is home to the Frank Hawkins Kenan Institute of Private Enterprise.