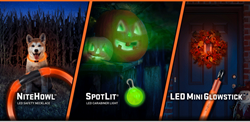 BOULDER, Colo. (PRWEB) October 04, 2016
More than 171 million Americans plan to celebrate Halloween this year and according to the National Retail Federation (NRF), spending is expected to soar to an all-time high of $8.4 billion.* Candy and costumes will make up a majority of the planned purchases but Colorado manufacturer, Nite Ize® is encouraging shoppers to invest in safety and visibility products as well, in an effort to keep trick-or-treaters safe and seen while pounding the pavement.
When it comes to trick-or-treating, the "trick" is to be seen. Safety starts with mom and dad. The 3-in-1 LED Mini Flashlight is an ultra-bright handheld flashlight that converts into a lantern or red safety light. Its small and lightweight size makes it easy to carry while moving from house to house for hours. If mom and dad prefer to keep their hands free, the new Radiant® 250 Rechargeable Headlamp is an excellent lighting solution. With multiple modes and both red and white LEDs, this headlamp can be worn comfortably throughout the night and will run for up to 43 hours on low mode which means the kids won't have to go home early. The 90 degree tilt angle allows the headlamp to be positioned properly and the red LED helps preserve night vision and avoid blinding other trick-or-treaters.
If the family dog is coming along as a chaperone, the Nite Dawg® LED Dog Collar, NiteHowl™ LED Safety Necklace and SpotLit™ LED Collar Light are all reliable ways to ensure everyone in the group stays visible. The durable Nite Dawg collar features a long-lasting LED that illuminates 360 degrees and is visible up to 1,000 feet. Passive reflectivity striping along the collar also helps increase visibility. The NiteHowl is ideal for all dogs – the flexible polymer tube is illuminated by two colored LED modules and can easily be trimmed for a custom fit for any sized dog. It slides over the dog's neck and can be worn in addition to an existing collar. The SpotLit is another universal lighting option that clips onto the D-ring of any collar and acts as the perfect mini beacon.
The NRF study revealed the number one costume choice for kids this year is a superhero; but even the best costume will not bestow superpowers. To help Captain America and Supergirl navigate the neighborhood with more than moonlight, Nite Ize suggests three popular products: the LED Mini Glowstick, MoonLit® LED Micro Lantern and SlapLit LED Slap Wrap.**
The LED Mini Glowstick is an excellent alternative to traditional chemical glowsticks and is compact yet powerful. Included with the glowstick is a small plastic S-Biner® that can be clipped easily to the side of a candy bucket or costume zipper. The MoonLit LED Micro Lantern can also be attached to a costume with a secure carabiner. This little light can be positioned at any angle which makes it a convenient option for hands-free lighting. The SlapLit LED Slap Wrap is the ultimate fun and functional safety accessory for Halloween. With the same "slap it to snap it" technology from the popular slap bracelets in the nineties and an integrated LED, the Nite Ize SlapLit is an easy-to-activate glow bracelet. The passive reflective pattern also helps to enhance visibility for passing vehicles.
Many of these little lights can be used to enhance Halloween décor as well. An orange LED Mini Glowstick can be cleverly clipped to a wreath on the front door for extra theme lighting or a Disc-O SpotLit is a creative alternative to illuminate the family jack-o'-lanterns; this battery operated LED will cycle through the color spectrum and add interest to the front steps of any haunted house.
With endless options to enhance safety and visibility, Nite Ize products are frightfully clever. For more information, visit NiteIze.com.