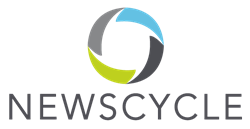 Darmstadt, Germany and Bloomington, MN (PRWEB) October 05, 2016
NEWSCYCLE Solutions will showcase its new digital content management platform, advertising CRM software and mobile application technology to a worldwide audience of news media professionals at the WAN-Ifra World Publishing Expo 2016 in Messe Wien, Vienna, on October 10th - 12th.
During the three-day event, NEWSCYCLE executives and representatives from sales, marketing and professional services will discuss key industry topics including revenue expansion and strategies for new growth, and demonstrate the company's latest digital tools - ONSET, SalesLink CRM and NEWSCYCLE Mobile.
Peter Marsh, NEWSCYCLE's Vice-President of Marketing, will present Mobilizing Media at the NEWSCYCLE booth on Tuesday, October 11th, from 14.00 - 14.30.
Interactive presentations:
NEWSCYCLE booth on Stand 325
Monday through Wednesday, October 10th - 12th, 10.00 - 17.00
Click to schedule a NEWSCYCLE demo or to reserve a seat.
Product experts will be on-hand to answer questions and demonstrate the latest NEWSCYCLE software solutions with demonstrations in German and English, including:
ONSET - Built on Drupal 8 technology, ONSET is NEWSCYCLE's new digital content management system developed for news media companies with specialized modules to simplify publishing processes and support digital revenue strategies.
SalesLink - NEWSCYCLE's browser-based CRM tool integrates advertising sales and customer relationship management functionality into a single, responsive application designed to simplify ad sales workflows and help increase multichannel advertising revenue.
NEWSCYCLE Mobile - A mobile application development and mobile ad network for digital publishing, advertising and audience management enabling media companies to deliver content on mobile devices through native apps and the mobile web.
Special events at the NEWSCYCLE booth:
Mobilizing Media
Tuesday, October 11, 14.00 - 14.30
By Pete Marsh, NEWSCYCLE's Vice President of Marketing
An in-depth look at mobile app development, mobile ad networks and explain why mobile is a critical component of an integrated content management strategy.
"In 2016, mobile apps account for more than 60% of the time readers spend consuming digital news and advertising content. Experts say this trend will continue to grow over the next five years," said Marsh. "Our Mobilizing media presentation will inform you of several critical reasons why your news media company needs to invest in mobile app development now, as you strive to boost audience engagement and increase overall digital news and advertising revenues."
Happy Hour
NEWSCYCLE booth on Stand 325
On Monday and Tuesday afternoons from 17.00 - 18.00, Expo attendees are invited to join NEWSCYCLE for refreshments.
To learn more about NEWSCYCLE systems and demonstrations while at the World Publishing Expo, please go to: NEWSCYCLE information and demo schedule.
About NEWSCYCLE Solutions
Newscycle develops and delivers software technology that empowers the global news media industry. Our solutions enable publishers to thrive in a rapidly transforming market. We help our clients in their mission to create stronger, better informed communities while protecting the integrity of news, advertising and customer information. Newscycle is a trusted partner serving more than 750 media enterprises, including 1,200 companies with 8,000 properties across 45 countries on six continents. The company is headquartered in Bloomington, MN and has U.S. offices in Florida, Michigan and Utah; with international offices in Denmark, Germany, Malaysia, Sweden, and the United Kingdom; and satellite offices in Australia, Canada and Norway. For more information about Newscycle's technology innovations for 2016, go to: newscycle.com/innovations2016
Media Contacts:
Birgit Ankjaer
NEWSCYCLE Solutions
EMEA Marketing Manager
birgit.ankjaer(at)newscycle.com
Lisa Speth
NEWSCYCLE Solutions
Marketing Communications Manager
lisa.speth(at)newscycle.com