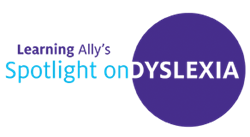 20 world-renowned experts in the fields of learning disabilities, literacy and education, and special address from Carly Simon.
Princeton, NJ (PRWEB) October 05, 2016
Dyslexia is a learning disability that affects millions of school children in the U.S. -- up to one in five, according to federally funded research. In fact, October is recognized as Dyslexia Awareness Month across the world.
Learning Ally - a national nonprofit organization serving individuals with learning and visual disabilities - is kicking off Dyslexia Awareness Month, by announcing its third annual Spotlight on Dyslexia online national conference for teachers and parents of students who struggle to read, due to dyslexia.
Live on December 2 (and available on demand to registrants for sixty days), Spotlight on Dyslexia will feature over 20 world-renowned experts in the fields of learning disabilities, literacy and education. They will speak on a variety of topics designed to help students who struggle to read, as well as the teachers and parents who guide their journeys.
This year, Spotlight on Dyslexia - #SPOD16 - will feature two keynote presentations intended to spark an "education revolution." Keynote presentations include::

Dean Bragonier (NoticeAbility) and Sally Taylor (Consensus): "Family of Strengths: Unlocking Dyslexic Ability." For Dean and Sally, dyslexia runs in the family. Both are dyslexic, as is Sally's mother, Grammy Award-winning singer and songwriter Carly Simon, who will present a special message during the keynote presentation. This family has discovered that with dyslexia comes great strength.
Dr. Louisa Moats, Ed.D.: Exclusive Educational Keynote address: "Why Spelling counts in the 21st Century Classroom." Acclaimed researcher Dr. Moats will provide recommendations on accommodations and teacher instruction and will dive into why spelling is a near-universal source of challenge and stress for dyslexic students.
Some of this year's Spotlight on Dyslexia headlining speakers include:
Barbara Wilson, M.Ed; Founder and Co-President of Wilson Language Training. Ms. Wilson will discuss the essential elements and key principles of literacy instruction that are necessary for the success of all students in PK-3 classrooms. The session will also explore key considerations for early identification of students with dyslexia.
Dr. Gavin Reid; International Consultant and Psychologist. Dr. Reid will present "Dyslexia and Inclusion: 5 points for success," making inclusion a reality for students with dyslexia.
Elsa Cardenas-Hagan; Bilingual Speech Language Pathologist; Certified Academic Language Therapist. Dr. Cardenas-Hagan's presentation will center on Dyslexia among ELL students. Participants will learn the cross-linguistic features of Spanish and English and specific strategies that can be incorporated within their intervention programs.
Dr. Vaughn K. Lauer; author and advocate. In his presentation Dr. Lauer will speak to parents and educators who find evaluations and test scores to be less than informative. Participants will learn to "Evaluate an Evaluation."
Sharon Plante; Special Education Teacher and Director of Technology at Eagle Hill-Southport. Ms Plante will join her colleague, Theresa Collins, to discuss technology as an instructive and assistive tool following the traditional Orton-Gillingham approach in the small classroom setting for instruction and individualized review.
"We are indeed part of an education revolution, as Dean and Sally say," says Terrie Noland, Director of Educator Engagement at Learning Ally. "In just three years, Spotlight on Dyslexia has become a highly anticipated and major event; and we are so excited to be adding exclusive teacher-centered content and speakers to our lineup this year It should be the best year yet; and we are just getting started."
The event will be held on December 2, 2016, with a registration fee of $89 prior to November 20. A discount fee of $59 is available for Learning Ally members. All registrants will be able to access the complete roster of conference presentations and archived activities "on demand" for sixty days after the live event. For more information or to register for the conference, visit http://www.LearningAlly.org/dyslexiaconference.
CEU credit from the Virginia Commonwealth University is available for educators who attend Spotlight on Dyslexia or who view the event, available on demand for sixty days after December 2.
New this year, options for schools to broadcast the event and obtain Spotlight on Dyslexia's documents and resources for up to a full year will will provide flexible delivery of professional development to general and special education teachers.
Learning Ally will be releasing more news and making more announcements during October, for both Dyslexia and Blindness Awareness Months. Additionally, the organization encourages everyone to wear red during "Red for All, for #Read4 all" on Monday October 17, in honor of World Dyslexia Awareness Day, which takes place Saturday October 15.
Learning Ally is able to produce Spotlight on Dyslexia and many other services through the generosity of donors and volunteers. Please get involved to learn how you can help.
About Learning Ally
Founded in 1948, Learning Ally supports K-12, college and graduate students, veterans and lifelong learners – all of whom read and learn differently due to dyslexia, blindness or visual impairment, and other disabilities. Through its extensive community events and support programs, Learning Ally enables parents, teachers and specialists to help students thrive and succeed. The organization hosts live and virtual events for families and teachers; provides instructive webinars led by experts as well as peer-to-peer sessions led by students; and professional development workshops for educators.
Learning Ally's accessible collection of 82,000 human-narrated audio textbooks and literature titles can be downloaded by students using their smartphones and tablets, and is the largest of its kind in the world. As a 501(c)3 nonprofit, Learning Ally is partially funded by grants from state and local education programs, and the generous contributions of individuals, foundations and corporations. For more information, visit https://LearningAlly.org.