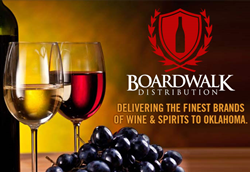 We view our customers as our business partners. Bryan Hendershot, CEO
TULSA, OKLAHOMA (PRWEB) October 06, 2016
Boardwalk Distribution, Wine and Spirit Wholesaler, has entered into a Purchase Agreement to acquire Action Wholesale Liquor in Oklahoma City. Bryan Hendershot, successful entrepreneur and Boardwalk's CEO, started the business five years ago and it is now considered Oklahoma's third largest liquor and wine wholesaler.
"By acquiring Action's sales and leadership team, we will solidify our presence in Oklahoma City and Western Oklahoma. Action brings 30-plus years of solid relationships with them," explains Hendershot.
Boardwalk will remain in their current 200,000 square-foot Tulsa facility where they service customers across the state. The transaction will continue to strengthen Boardwalk's reputation for industry-leading ordering technology along with the quickest, most accurate and on-time delivery available.
"We view our customers as our business partners and strategic moves like this will help us continue to give the superior service they have come to expect from us," says Hendershot.
Boardwalk Distribution is headquartered in Tulsa, Oklahoma and has aggressively grown their distribution network. Boardwalk distributes all of the top wine, spirit and strong beer brands.
Boardwalk brings to the market a new streamlined workflow to the wholesale liquor distribution process. Customer service, competitive pricing, accurate and guaranteed on-time deliveries are their hallmark. Boardwalk has custom designed a real-time inventory and sales tracking software platform that helps insure a first class experience for their clients across Oklahoma. The company's highly trained sales staff ensures a diverse portfolio of profitable products are delivered on demand through Boardwalk's proprietary purchase order system. Their dedicated delivery workforce makes serving their customers Boardwalk's top priority.
For more information:
Dan Pasque, President
918.398.6824
http://www.boardwalkdistribution.com