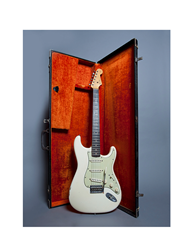 The 1963 Fender Stratocaster was used exclusively by Jimi Hendrix for studio recordings.
Las Vegas, Nevada (PRWEB) October 05, 2016
A 1963 Olympic White Fender Stratocaster once owned and played by rock guitarist, singer and songwriter Jimi Hendrix will be up for auction at the Circus Couture event on Friday, October 7, 2016, at The Joint inside the Hard Rock Hotel & Casino. The auction will also be held online. Visit http://www.circus-couture.com for the link.
Hendrix is widely recognized as one of the most influential musicians of the 20th century. His pioneering work with the electric guitar helped to create a new musical form, creating a legacy that continues to inspire guitar players and musicians today.
The 1963 Fender Stratocaster was used exclusively by Hendrix for studio recordings and has the Fender serial number of L-14985. In addition to the guitar, photographs, letters and documents authenticate the guitar's place in rock history.
The minimum bid is $650,000. All proceeds over $600,000 will be donated to Cure 4 The Kids Foundation.
Those seeking additional information about the Hendrix Fender Stratocaster prior to the auction may call (702) 732-0232.
About Circus Couture
Circus Couture is an annual eye-catching spectacle encompassing circus performances, fashion and art to benefit those children and their families who are currently battling cancer, as well as those who will be affected in the future. Now in its seventh year, Circus Couture brings together the immense talents of performers, fashion designers, artists, many of whom have worked on the Las Vegas Strip, to create an all-volunteer event raising funds for the Children's Specialty Center of Nevada, the only childhood cancer outpatient treatment in the state that provides treatment with or without medical insurance or ability to pay for treatment.  Co-founded by noted performer and aerialist, Erica Linz, Circus Couture is a 501(c)(3) nonprofit organization and has raised more than $750,000 since inception.
For additional information, please contact:
Mitch Truswell
Red 7 Communications
mitch(at)red7communications.com