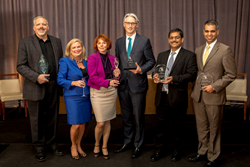 New York City New YOrk (PRWEB) October 05, 2016
T.E.N., a technology and information security executive networking and relationship-marketing firm, honored finalists and winners Tuesday evening, October 4th, at the 2016 ISE® Northeast Executive Forum and Awards Gala at the Westin Time Square, New York City, New York.
Vikrant Arora, AVP & Chief Information Security & Risk Officer of New York City Health + Hospitals, was selected as the Information Security Executive® of the Year Award winner for the ISE® Northeast Region. Vikrant is a credentialed business leader with over 10 years of global experience in developing enterprise security & risk management programs, delivering security "business value" and communicating risk to the BODs. Vikrant has successfully helped Government, Education and Healthcare sectors to become more resilient against future attacks and shift corporate culture accordingly. In his current role as AVP & Chief Information Security & Risk Officer at New York City Health & Hospitals (NYCHHC), Vikrant is particularly focused on addressing business risks and regulatory compliance associated with emerging technologies, clinical systems and advancements in cybercrime. In 2013, Vikrant led a robust transformation of security & risk function across the largest municipal health care organization in US. Prior to joining NYCHHC, Vikrant worked with NBC, Pfizer and Dimension Data advocating development of a "risk aware" culture and "risk based" business model. Vikrant holds a Master's degree in Computer Engineering from New Jersey Institute of Technology. He is also CISSP, CISM and SANS GCFA certified and was nominated for the 2011 North East Security executive of the year.
Frank Aiello, Chief Information Security Officer of American Red Cross was honored during the event 2016 ISE® Northeast People's Choice Award. This award represents the nominee who best exemplifies information security leadership as voted on by his peers in information security.
Clarient's project "Clarient Entity Hub 1.0" was selected as the ISE® Northeast Project of the Year. Clarient Entity Hub is a secure, centralized entity data and document utility that addresses global financial market participants' needs for greater control, transparency, and cost reduction in response to evolving risk management and regulatory requirements. Clarient Entity Hub collects, maintains and allows for the sharing of legal entity information with counterparties, through one centralized interface. This integrated, global entity data management platform permits granular access controls, fosters standardization and ensures accuracy and data privacy for client data and documents required throughout the client life cycle. The Clarient Entity Hub also streamlines interactions between market participants and their clients, and allows critical data to become digitized and dynamic. Project finalists included Billtrust's "Enterprise Immune System", Comcast's "Comcast Assets at Risk Program" and UMass's "Massachusetts Advanced Secure Technologies (MAST) Cybersecurity Services".
"Our judges faced a difficult challenge in evaluating such a high caliber group of executive and project nominees," said T.E.N. CEO and President Marci McCarthy. "Each of them exhibits the innovation and ingenuity for which the ISE® Awards stand and we are honored to have each and every one of join the ranks of our distinguished ISE® Alumni."
Full list of nominees can be found on the T.E.N. website:
Executive: http://www.ten-inc.com/ise/northeast/exec_nominees.asp
Project: http://www.ten-inc.com/ise/northeast/project_nominees.asp
The ISE® Northeast Awards recognize both information security executives and projects for outstanding achievements in risk management, data asset protection, compliance, privacy and network security. Award winners were selected from the U.S. Northeast region, which includes Connecticut, Delaware, Maine, Massachusetts, New Hampshire, New Jersey, New York, Pennsylvania, Rhode Island, Vermont and Washington DC. The event is made possible by exabite sponsor: Intralinks, kilobyte sponsors: Attivo Networks, Bay Dynamics, Cybereason, Delphix, Digital Guardian, Globalscape, Hewlett Packard Enterprise, illusive, Leidos, NetIQ, Qualys, Inc., Shape Security and Source IT Technologies and display sponsors: Arxan, AttackIQ, Check Point Software Technologies Ltd., CloudPassage, Core Security, Echoworx, Fidelis, Lookout, Novetta, Onapsis, Tripwire, Tufin and Varonis. Learn more online: http://www.ten-inc.com/ise/northeast/sponsors.asp
About T.E.N.
T.E.N., a national technology and security executive networking organization, facilitates peer-to-peer relationships between top executives, industry visionaries and solutions providers. Nominated for numerous industry awards, T.E.N.'s executive leadership programs enable information exchange, collaboration and decision-making. Its flagship program, the nationally-acclaimed Information Security Executive® (ISE®) of the Year Program Series and Awards, is North America's largest leadership recognition and networking program for security professionals. Other offerings include The ISE® Lions' Den and Jungle Lounge, T.E.N. Custom Programs and the ISE® Industry Expert Advisory Services, empowering IT solutions providers to gain access to highly credentialed IT business veterans' expertise. For information, visit http://www.ten-inc.com.
About ISE® Award Program Series
For more than a decade, the Information Security Executive® (ISE®) of the Year Award Program Series has empowered security executives and their project teams to Connect, Collaborate and Celebrate. Recognized as the industry's most prestigious IT Security award program, it has become the most anticipated award program for security executives and their project teams. Winners have included executives and project teams from leading organizations such as Nike, The Walt Disney Company, the United States Postal Service, Schlumberger, Texas Instruments, JPMorgan Chase & Co., Equifax, Comcast, PayPal, Northrop Grumman Corporation, and Nationwide.
Our distinguished ISE® Judges are past nominees representing a cross section of industries, including commercial, government, health care and academic sectors. For this reason, the ISE® Awards represent the best achievements of the year as evaluated by those regarded as the industry's most influential and successful thought leaders. Coupled with a one or two-day executive summit, the ISE® Awards are held across the country and Canada in major cities including Atlanta, Chicago, Dallas, New York and San Francisco. The ISE® Awards Program Series has reached more than 10,000 executives across a broad range of industries and has been a major influence in executives' careers, knowledge sharing, and the development of peer-to-peer relationships.
Note to editors: Trademarks and registered trademarks referenced herein remain the property of their respective owners.