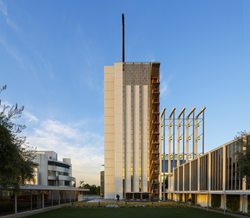 ...it is a remarkable testimony to our work and the talented people at our firm who prove that design matters.
Irvine, CA (PRWEB) October 06, 2016
LPA Inc., one of California's largest sustainable design firms, was recently honored with awards from the American Institute of Architects Orange County (AIAOC) chapter and the National Council of Structural Engineering Associations (NCSEA). These awards attest to the firm's integrated design practice and sustainable solutions.
The AIAOC design awards marked the 40th consecutive year the firm has been recognized by the annual awards program. "Being recognized for our projects every year since 1977—given that each year there is a different jury with their own take on what makes a design noteworthy—it is a remarkable testimony to our work and the talented people at our firm who prove that design matters," stated Dan Heinfeld, President of LPA.
The projects honored with awards by the AIAOC include: West Hollywood Automated Parking Garage with an Award of Honor; Eastvale eSTEM High School with a Citation Award; and Los Angeles Valley College's Monarch Student Center received an Award of Merit in the Commercial category and a Committee on the Environment (COTE) Award given in recognition of its sustainable attributes—the only project to receive this award this year.
These three projects, though varying by scale and type, each encompass a design that creates value for the end-user. Whether it's a higher education student plaza, a technologically-driven, eco-friendly parking structure or a soon-to-be high school innovative academic learning space, the commitment to sustainable design methods combined with functional space conditions is displayed throughout the design.
As an integrated design firm, LPA provides engineering services to provide appropriate solutions to meet the client's programmatic and performance requirements. In addition to the AIAOC awards, the firm was recently honored with an Excellence in Structural Engineering Award for the Tower of Hope seismic retrofit project from NCSEA.
"We are honored to receive this recognition from our peers in the national structural engineering community," said Bryan Seamer, Associate / Director of Structural Engineering at LPA. "The Tower of Hope renovation and seismic retrofit project is a great example of what can be accomplished when a team of owners, architects and engineers are aligned toward a common goal."
In this case, that goal was to preserve an important and celebrated structure by Richard Neutra, one of the titans of mid-century modernist architecture, as well as a culturally significant piece of Southern California history, the Tower of Hope. Two seismic retrofit strategies were combined to provide life-safety performance without impacting the historic architecture of the building or reducing the usable floor space.
The success of the seismic retrofit portion of the project led owner's representative Rob Neal to comment, "LPA took the time to better understand our requirements and needs resulting in an innovative and elegant solution that preserved the historic architecture of the tower and saved us almost $3 million in construction cost."
LPA is built on a foundation of cohesively bridging multiple design disciplines and these awards are a testament to the design firm's commitment to integrated sustainable design.
About LPA Inc.
Founded in 1965, LPA has more than 350 employees with offices in San Antonio and Irvine, Sacramento, San Diego and San Jose, California. The firm provides services in architecture, sustainability, planning, interior design, landscape architecture, engineering and graphics. With a proven commitment to integrated sustainable design, LPA designs facilities that span from K-12 schools, colleges and universities and corporate, healthcare and civic establishments. More than 700 major design awards attest to LPA's commitment to design excellence. For more information, visit http://www.lpainc.com.