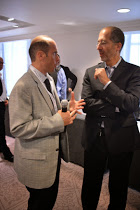 "This deal promises to make a significant impact on commission solutions in the retail energy space" --- Jack Doueck
New York, NY (PRWEB) October 10, 2016
Advanced Energy Capital, LLC ("AEC") today announced its agreement with The Commission Exchange ("TCE") to provide up to $50 million for retail energy commission financing. Jack Doueck and Richard Rudy, AEC's founding principals, made the announcement jointly.
The agreement is an extension of AEC's mission to provide cost-efficient finance solutions in the retail energy space, which The Commission Exchange also serves through its innovative commission management solutions for retail electricity providers. Commission financing via The Commission Exchange's industry-leading platform, which exclusively serves retail energy providers and their indirect sales channels and brokers, further expands AEC's footprint in the energy finance arena.
"AEC understands the current dynamics across the retail energy markets," said Brandon Ellett, founder and chief executive officer of The Commission Exchange. "There is huge demand for growth capital within the marketplace, and this fund, along with our innovative payment exchange, is one way of expanding on our commitment to empower the aggregator, broker and consultant community with expanded options for how and when they are paid commissions."
"The combination of The Commission Exchange's platform and analytics expertise and its impressive track record in marketplace development coupled with AEC's credit and finance expertise should make a significant impact on commission solutions in the retail energy sector," said Doueck.
"We enthusiastically welcome The Commission Exchange as a focused and innovative player in the energy finance space and look forward to an outstanding long-term relationship with its team," said Rudy.
About Advanced Energy Capital
http://www.advancedenergycap.com
Advanced Energy Capital, LLC ("AEC") is an Energy Finance firm providing affordable and innovative financing solutions to Energy Efficiency, Energy Storage, Renewable Energy and Retail Energy providers, developers, contractors and customers. AEC has a $1 billion mandate to finance energy efficiency measures in North America. AEC's financing is characterized by flexibility, working with counter-parties below 'investment grade', short terms as well as terms beyond 5 years, structures beyond just leases and deal-size ranging between $50,000 and $10 million. AEC has developed simple end-user turnkey off-balance sheet financing solutions that enable developers and contractors to dramatically increase their revenues by offering customers embedded financing without up-front payments. AEC's Incentive Funding program enables contractors to get access to cash quickly and easily.
About The Commission Exchange
http://www.thecommissionexchange.com
The Commission Exchange® is the leading members-only marketplace serving the financial needs of sales professionals and commission-based organizations. Utilizing a proprietary platform, members are able to easily submit commission statements for approval and receive instant offers for immediate payout.
FOR IMMEDIATE RELEASE
Contact: Jack Doueck Richard Rudy
Advanced Energy Capital Advanced Energy Capital
347.799.1685, ext. 207 347.799.1685, ext. 205
JD@advancedenergycap.com rrudy@advancedenergycap.com
Brandon Ellett Jake Cantrell
The Commission Exchange The Commission Exchange
877.759.2100 877.759.2100
bellett@thecommissionexchange.com jcantrell@thecommissionexchange.com