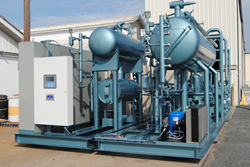 We are excited about demonstrating the CO2/NH3 Cascade System. It helps lower costs by using significantly less power and saving money is something that every company needs.
Federalsburg, MD (PRWEB) October 06, 2016
M&M Refrigeration, the refrigeration industry leader in CO2 technology, will exhibit at Booth #2300 at the International Baking Industry Exposition (IBIE). This global food equipment and technology show will be held in Las Vegas on October 8-11.
M&M Refrigeration staff will highlight spiral freezers that are powered by CO2 Cascade System technology. Vigorous circulation of cold air is used to enable freezing at a rapid rate. Spiral freezers are ideal for products requiring a long freezing time, including raw or cooked meat, fish fillets, chicken, and pizza. The M&M CO2 Cascade Refrigeration System helps lower suction temperatures down to -60 degrees F, bringing the air temperature to approximately -50 degrees F. This ensures faster freezing and quick product preservation, increased production, and lower energy expenditure.
M&M Refrigeration's CO2/NH3 cascade system combines the advantages of CO2 in the lower-temperature side and ammonia on the higher-temperature side. Ammonia is limited to the engine room, and only CO2 is present in working, processing and storage areas.
Cascade CO2 systems offer lower installation cost, lower refrigerant costs and lower operating temperatures with higher production yields. No cooling is required on the low side compressors. In addition, CO2 systems always operate at a positive pressure.
Key points about M&M Refrigeration's Cascade CO2/NH3 system:

Increases throughput by up to 50% and decreases operation costs up to 40%
Dramatically reduced ammonia charge
Smaller first-stage compressors
Smaller suction and discharge piping
Smaller control valves and liquid separating vessels
CO2 is less expensive than ammonia
Less material needed to build the system
Less insulation required for valves and piping
Does not contribute to global warming
Does not deplete the ozone layer
Commenting on the IBIE Show, M&M Refrigeration CEO Duane Marshall said, "We are excited about sharing the CO2/NH3 Cascade System for spiral freezer applications. It helps lower costs by using significantly less power, and saving money is something that every company needs."
The leader in CO2 technology in North America, M&M Refrigeration designs, engineers and manufactures high-quality refrigeration systems for a variety of applications including food processing, cold storage, warehouses and ice arenas throughout the United States and the world. In 2007, M&M Refrigeration completed the largest CO2 cold storage plant in the world. The company employs world-class technicians and engineers, uses quality materials, and is committed to achieving lifelong customer satisfaction.
For more information, visit http://www.mmrefrigeration.com or call 410-754-8005.