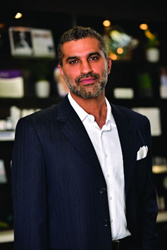 San Diego, California (PRWEB) October 06, 2016
San Diego's premier facial plastic surgeon and founder of Carmel Valley Facial Plastic Surgery, Dr. Amir M. Karam, MD, will share his unparalleled knowledge and experience with his peers at the upcoming American Academy of Facial Plastic and Reconstructive Surgery meeting this fall. Hailed for his innovative techniques and natural-looking facial rejuvenation, Dr. Karam will give two facial rejuvenation lectures and will serve as an expert on a panel discussing ways to avoid complications during facelift surgery.
The American Academy of Facial Plastic and Reconstructive Surgery (AAFPRS) is the largest organization in the world devoted to facial plastic surgery. Founded in 1963, more than 2,500 facial plastic and reconstructive surgeons across the globe hold memberships to the esteemed association. Once a year the AAFPRS gathers for a four-day event to discuss innovations in the field and share their specialties with their colleagues. This year's fall conference will take place in the Nashville, Tennessee. The conference will be broken down into several series, each with panels and lectures on the industry's most important and complex topics.
As an expert in the field specializing in facial rejuvenation and rhinoplasty, Dr. Karam has been asked to share his experience (which includes an astounding 350 fat transfers, 350 eye rejuvenations, 250 facelifts and neck lifts every year) and the innovative approaches he uses regularly as part of his Facial Rejuvenation practice. What makes Dr. Karam's practice unique is his comprehensive approach, in which he treats the entire aging face, as opposed to a single aspect, lending his patients a revitalized and natural appearance. He will speak on his technique for achieving youthful eyes by way of Lateral Brow Lifting (browpexy) with Temporal Fascia Fixation and the advantages of perioral Erbium:YAG laser resurfacing as a way to remove the lines around the mouth.
Dr. Karam will also be on the Facelifting panel with three other revered facial plastic surgeons. In this groundbreaking panel, a moderator will probe Dr. Karam and his peers with in-depth questions, prompting them to share their facelift style and techniques geared toward ways of avoiding complications. At the terminus of the panel, attendees will have the opportunity to ask their own questions of the experienced surgeons.
The 2016 fall AAFPRS meeting will take place in Nashville, Tennessee on October 6-8. For more information on the meeting, please visiting AAFPRS.org.
###
About Carmel Valley Facial Plastic Surgery
Dr. Amir Karam is one of the nation's preeminent facial plastic surgeons, renowned for his work in facial rejuvenation. Performing over 1,500 facial surgical procedures per year, his experience in incomparable. Throughout his time in practice, Dr. Karam has become an innovative force in the world of facial plastic surgery, pioneering multiple procedures and combinations and penning the fundamental textbook Rejuvenation of the Aging Face. Double Board Certified by the American Board of Facial Plastic and Reconstructive Surgery and the American Board of Otolaryngology, patients fly in from around the country for the award-winning doctor's advanced techniques.