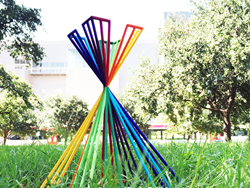 Austin, Texas (PRWEB) October 06, 2016
This fall, Austin artist Jennifer Chenoweth brings her groundbreaking public art project XYZ Atlas to SXSW Eco 2016. Selected as one of 36 international finalists in the Place by Design competition, which highlights design projects engaged in promoting social, economic and environmental change, XYZ Atlas will also debut a new original sculpture called the "Vertex" during the annual conference. XYZ Atlas is one of two Austin-based SXSW Eco Place by Design finalists, and the only Texas-based project in the Arts + Interaction category.
"I am very excited to bring XYZ Atlas to SXSW Eco's stage," said Chenoweth. "Rarely does a visual artist from Austin receive this kind of attention and acclaim, so I'm incredibly honored to help represent my favorite city among so many brilliant innovators, designers and artists. I look forward to the diverse perspectives and passionate conversations."
XYZ Atlas' selection to participate in SXSW Eco follows the culmination of the project in its hometown, Austin, Texas. In 2013, Chenoweth created XYZ Atlas as a way of marking Austin's collective experience of a changing and growing city. Originally centered around a series of emotional maps of Austin that captured the range of experiences around town, XYZ Atlas quickly expanded its focus to become a multimedia public art project documenting how individuals and communities find attachment to place. These stories have been visualized through a series of interactive pieces playing with time, space and perspective. After closing out the Austin chapter in May 2016, Chenoweth is in the process of expanding and adapting XYZ Atlas for Bryan/College Station, TX, which will be on display in spring and summer 2017.
"This project has evolved and changed so much over the past few years, and throughout this process, I've discovered different ways XYZ Atlas can help shape and improve a particular place, whether that's socially, economically or environmentally" Chenoweth said. "As XYZ Atlas continues to expand to Bryan / College Station and beyond, my hope is that the information, stories and data that are uncovered through this project will help make these communities and areas more inclusive, healthy and valuable to those who use them."
More information about XYZ Atlas in Bryan / College Station will be released in late 2016 or early 2017.
SXSW Eco Place by Design (PXD) Outdoor Lounge: October 9-12
A special exhibition of Chenoweth's new interactive "Vertex" sculpture has been organized as part of the SXSW Eco Place by Design Outdoor Lounge. Created by Chenoweth and her husband, Robert Whitehurst, "Vertex" is a multicolored 3-D perspective point measuring 20-feet high and 12-feet square at the base. Inspired by Tempest, an arcade game from Atari that Chenoweth played as a kid, "Vertex" serves as a location marker that "You Are Here".
Set to transform one of Austin's original public spaces, Brush Square Park, into a place of discovery, experimentation and fun, the PXD Outdoor Lounge will include games and art installations designed to show the potential of this accessible green space in downtown Austin. "Vertex" will be on display 4 – 8 p.m. Sunday, October 9; 8 a.m. – 8 p.m. Monday, October 10, and Tuesday, October 11; and 8 a.m. – 6 p.m. Wednesday October 12. All events in the PXD Outdoor Lounge are free and open to the public.
SXSW Eco Art + Interaction Pitch Competition: October 10
Place by Design's Art + Interaction category features visionary urban installations and temporary, participatory art that beautifies underutilized space and changes the way users perceive or interact with public space. As one of six category finalists, Chenoweth will present XYZ Atlas before conference attendees during the Art + Interaction pitch competition from 11:30 a.m. – 12:30 p.m. Monday, October 10. Winners will be selected by the Place by Design Jury and announced at the SXSW Eco Awards Ceremony to be held Wednesday, October 12.
The 5th annual SXSW Eco conference runs October 10-12, 2016.
About XYZ Atlas
XYZ Atlas is a multi-year project mapping shared experiences through art. Taking its title from cartography, XYZ relates to geographical coordinates while Atlas characterizes the project's map-based components. Established in 2013, this body of work has been exhibited at SXSW, the Texas Tribune Festival, East Austin Studio Tour, and through Art of the City 2016, a national celebration of the most exciting and creative art projects across America. Major support for XYZ Atlas is provided by the Cultural Arts Division of the City of Austin Economic Development Department and the Parks and Recreation Department's Museums and Cultural Centers. For general information, please visit http://www.xyzatlas.org/.
About Jennifer Chenoweth
Jennifer Chenoweth is an Austin-based visual artist and cultural producer. For more than 16 years, Chenoweth has explored her art process through Fisterra Studio, where she makes contemporary art in any material that fits the idea, from drawings to large sculpture to interactive collaborative projects. Her personal style has earned her a reputation as a critically acclaimed figure in Austin's art community, in part because of her ability to utilize visual art as a tool for social change through inspiration and connection. She studied Painting and Sculpture at the Kansas City Art Institute, has a master's degree from the "Great Books" program at St. John's College in Santa Fe, and holds an M.F.A. in Painting from The University of Texas at Austin. From 2015-2016, Chenoweth served on a team for an ArtPlace project in Austin, Drawing Lines. In 2010, she founded a nonprofit, Generous Art, to empower artists and strengthen communities.