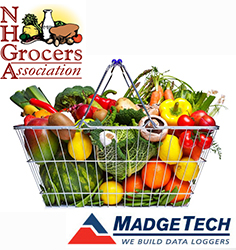 MadgeTech is here to not only provide suppliers and grocers with the tools they need to meet state and government regulations, but also the knowledge and continued support to bring safe products to consumers
(PRWEB) October 06, 2016
Established in 1933 by former state senator John J. Condon, the New Hampshire Grocers Association (NHGA) is dedicated to helping its fellow grocers not only ensure customers are receiving the highest quality of products on the market, but also ensuring they run a successful business. NHGA also takes pride in keeping business local by uniting grocers, supplier, brokers and wholesalers on both state and local levels.
MadgeTech Food Safety Sales Representative, Steve Revak, will be on hand at the upcoming show to highlight easy-to-use data logging solutions for monitoring cooking, shipping and storage. As a HACCP Certified Manager, Revak stresses the importance of properly handling food from farm to fork, "MadgeTech is here to not only provide suppliers and grocers with the tools they need to meet state and government regulations, but also the knowledge and continued support to bring safe products to consumers."
A sudden drop or spike in temperature and humidity levels could result in product loss, but more importantly a breach in product safety. Now, maintaining ideal conditions has never been easier with MadgeTech's wireless data logger series. The RFRHTemp2000A is the perfect environmental watchdog for any facility housing temperature sensitive foods. Designed to constantly monitor both temperature and humidity, the RFRHTemp2000A can alert users when specified thresholds are exceeded.
For measuring both environmental and internal product temperatures, MadgeTech has engineered the RFTCTemp2000A. Compatible with most thermocouple probes, the RFTCTemp2000A data logger is a popular choice for ensuring products stored in refrigerators, freezers and coolers are always maintained within acceptable limits.
All MadgeTech wireless data loggers including the 2000A series are compatible with MadgeTech Cloud Services. This free cloud platform not only allows users to receive alert notifications via email or text message, but it also gives users to power to view real-time data from any internet enabled device, from anywhere in the world.
These products and more will be available to view in person at the NHGA Annual Fall Conference & Expo. To learn more about MadgeTech's industry-leading data loggers, customizable solutions and user-friendly software, stop by and see us!
For more information about MadgeTech data loggers, please call MadgeTech at (603) 456-2011 or send an email to info(at)madgetech(dot)com.