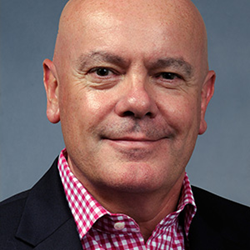 Manchester, NH (PRWEB) October 06, 2016
Dyn, the Internet Performance Management (IPM) company, today announced the appointment of Colin Doherty as the company's Chief Executive Officer (CEO). With more than 25 years of industry experience, Doherty joins the company after 10 years of holding CEO positions at software-defined networking (SDN) leader BTI Systems and DDoS & Security solutions provider Arbor Networks.
Doherty's proven ability to drive business transformation and growth, as well as building high performance teams, will accelerate Dyn's continued leadership in the IPM market. With a strong expertise in enterprise cloud, software-defined networking and security technologies, Doherty will build on Dyn's milestone year and lead the company in its next chapter.
"We are thrilled to have Colin join the team and help coalesce Dyn's vision to unlock the potential of the internet for business transformation," said Jim Baum, Executive Chairman, Dyn. "Colin has a quantifiable track record of driving revenue, growth and profitability in both multinational organizations and small-VC funded portfolio companies. His proven success as a CEO, business and technology strategy leader and expertise in the market is key to scaling Dyn's business to new heights."
"I'm very excited to join Dyn as CEO to lead the company in its next chapter and continue its rapid growth," Doherty said. "Dyn has been built with an incredible team, solid customers and a stellar technology portfolio. Today, every business is an internet business and poor performance has a direct impact on the bottom line. Dyn's impressive technology has the capabilities to provide unique insights and optimize internet performance."
ABOUT DYN
Dyn is a cloud-based Internet Performance Management (IPM) company that provides unrivaled visibility and control into cloud and public internet resources. Dyn's platform monitors, controls and optimizes applications and infrastructure through Data, Analytics, and Traffic Steering, ensuring traffic gets delivered faster, safer, and more reliably than ever.
Dyn is the leading IPM provider to the largest enterprises and most visited web properties in the world, including eight of the top 10 Internet Services and Retail companies, and six of the top 10 Entertainment companies, in the Fortune 500. Dyn helps everyone from startups to companies like Pfizer, Netflix and Twitter solve the challenges associated with internet scale, complexity and volatility. Dyn is Internet Performance. Delivered. Visit dyn.com for more info on how Dyn delivers.
Dyn Media Contact
Brendan Mangus | bmangus(at)dyn.com | 603-296-1529