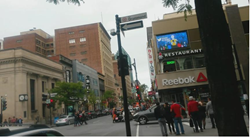 Politicians can't stop climate change
Calgary, Alberta, Canada (PRWEB) October 06, 2016
Friends of Science Society says Canadians have been "Climate Hustled" into the official ratification of the Paris COP-21 climate change agreement, as reported by the National Observer, Oct. 5, 2016. Undeterred, Friends of Science have launched a new ClimateChange101.ca - a bilingual, plain language website and video billboard in downtown Montreal.
Based on assessments by energy economist Robert Lyman on the previous 2 degree Celsius target, Friends of Science says trying to meet the greenhouse gas (GHG) reduction targets will crater the Canadian economy and will not stop climate change or global warming.
Michelle Stirling, Communications Manager for Friends of Science Society says the popularity of the expose documentary "Climate Hustle," on the theme of sleight-of-hand, street hustle shell games, resembles the current rush-to-ratify the Paris Agreement, as pressed for by Ban Ki-Moon, reported by UN News Centre Oct. 4, 2016. Friends of Science says taxpayers' money is committed without thoughtful debate or cost-benefit analysis of consequences.
According to Stirling, the complex science of climate has been reduced to a mantra of three themes - human-caused, carbon dioxide and consensus - by anti-oil activists and carbon trading advocates.
"Politicians can't stop climate change. Obviously, the four billion years of geological evidence prove that. We developed ClimateChange101.ca to educate the public and encourage free and open debate," says Stirling.
The new ClimateChange101.ca website and full motion video for the LED billboard (located in downtown Montreal on the corner of Drummond and St. Catherine) were created by R-Media.
Cory Robinson of R-Media says: "Montreal is a very politically charged city, a prime market for this subject. Our bilingual approach and creative helps illustrate the controversy around climate change, and aims to be entertaining as well as insightful. We want to encourage people to get involved and ask questions and #JoinTheDebate."
Robert Lyman, energy economist, has contributed an insightful opinion entitled "Five Things You need to Know about Trudeau's Carbon Taxes" posted on the Friends of Science Wordpress blog Oct. 4, 2016.
"In a democracy, we should have open debate and full cost-benefit analysis on these issues," says Stirling. "No one should be demonized for questioning or hustled into agreement."
About
Friends of Science has spent a decade reviewing a broad spectrum of literature on climate change and have concluded the sun is the main driver of climate change, not carbon dioxide (CO2). Friends of Science is made up of a growing group of earth, atmospheric and solar scientists, engineers, and citizens.
Friends of Science Society
P.O. Box 23167, Mission P.O.
Calgary, Alberta
Canada T2S 3B1
Toll-free Telephone: 1-888-789-9597
Web: friendsofscience.org
E-mail: contact(at)friendsofscience( dot)org