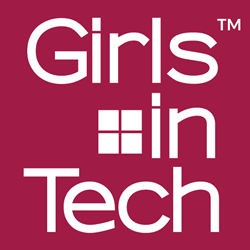 "It's an honor to add such accomplished female leaders and role models to the Girls in Tech Board," said Adriana Gascoigne, CEO of Girls in Tech. "We've gone through one of our largest growth phases in our history and the amount of experience a
San Francisco, CA (PRWEB) October 11, 2016
Girls in Tech, a global non-profit focused on eradicating gender disparity in technology, today announced the additions of three new board members, Mona Sadoun, Kim DeCarlis, and Alyson Welch, while also naming Sandy Carter, formerly of IBM, Chairman of the Board. The increase of board members will allow Girls in Tech to expand education and networking initiatives, while adding experienced leaders in high growth technology companies.
"It's an honor to add such accomplished female leaders and role models to the Girls in Tech Board," said Adriana Gascoigne, Founder and CEO of Girls in Tech. "We've gone through one of our largest growth phases in our history and the amount of experience and knowledge of our new board members will further help us achieve gender equality and parity in the workforce."
The new board members come aboard following the recent expansion of Girls in Tech to London, Dublin, and Gibraltar. Sadoun has launched over 90 products in 11 years as a Marketing Lead and Strategist at Apple. DeCarlis is Chief Marketing Officer of Imperva which generates more than $200 million in revenue each year. Welch has spent over 20 years in Enterprise sales, strategy, operations, and management roles, having built high tech sales teams to more than a $100 million run rate.
DeCarlis and and Welch were introduced to Girls in Tech by Athena Alliance, an organization dedicated to advancing women in the boardroom. The Girls in Tech board voted to increase the board from twelve to fifteen members. Current board members include, Bev Crair of Intel, Darrell Mockus of CPP Innovation Labs, Denise Terry of EmbraceHer Health, Donna Boyer of Airbnb, Fran Maier of Babierge, Jonathan Abrams of Nuzzel, Lawdan Shojaee of Axosoft, Lori McLeese of Automattic, Monique J. Morrow of Cisco, Sandy Carter and Adriana Gascoigne.
To find out more about each board member, go to the Girls in Tech Blog.
About Girls in Tech
Girls in Tech (GIT) is a global non-profit focused on the engagement, education and empowerment of girls and women who are passionate about technology. Adriana Gascoigne founded GIT in 2007 to create a support framework to help women advance their careers in STEM fields. GIT aims to accelerate the growth of innovative women entering into the high-tech industry and building startups. GIT achieves this through the creation of proprietary, innovative programming and strategic global partnerships.
With headquarters in San Francisco and more than 50,000 members located around the globe, GIT relies on volunteer efforts to lead each of the 60 local chapters. Programming and events vary by chapter based on local interests and needs. GIT is not just for professional women. It exists for anyone with an interest in technology, startups and providing women with a platform for growth. But GIT operates with the spirit of the girl within all of us—fearless, lively and determined. For the latest updates, read GIT's blog or follow them on Facebook or Twitter.
Contact:
Kevin Leu
kevin.leu(at)girlsintech(dot)org