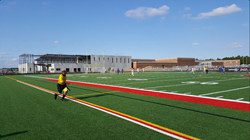 We can have four levels of football and three levels of both boys and girls foccer all using the Shaw Sports Turf fields as needed with no problems.
Stillwater, Minnesota (PRWEB) October 06, 2016
Stillwater High School is undergoing a major facelift as it transitions from a 10-12 high school to a complete 9-12 high school next fall. As part of this transition, the school has installed four new Shaw Sports Turf synthetic turf fields.
The fields, which include three practice fields and one stadium field, are the main fields for the school's athletic programs. They also serve many needs in the community, so the integrity of these fields is vital.
Grass fields have been a hindrance to the school's sports program for years and a major issue for Ricky Michel, Athletic Director at Stillwater High School.
"We used to struggle especially with field regeneration from one season to the next, specifically from spring to fall sports since Lacrosse teams also play in the summer," explains Michel. "But now that the school's sports schedules are no longer dependent on the condition of the fields, scheduling is no longer an issue. We can have four levels of football and three levels of both boys and girls soccer all using the Shaw Sports Turf fields as needed with no problems."
The Stillwater School District is installing Shaw Sports Turf's SpikeZone Pro, it is the newest innovation from Shaw Sports Turf, featuring a patented manufacturing process which runs three distinct fiber types through one needle as the field is tufted.
Spike Zone Pro features a combination of monofilament fibers, slit film fibers, and a Spike Zone thatch layer. Shaw's Bolt monofilament fiber is made with a high quality resin and has a lightning bolt cross-section which helps eliminate glare. Bolt excels in performance characteristics (ball roll and ball rebound) and is known for mirroring the aesthetics of natural grass. The slit film fiber is a high performance resin with superior durability, providing performance with a fiber that will stand the test of time. The Spike Zone layer minimizes infill movement and migration to other areas of the field, providing extra protection against inconsistent and unsafe surfaces.
All three fibers are run through one needle, a process no other synthetic turf company has been able to replicate. This patented manufacturing process is extremely important in avoiding streaky fields which are created when manufacturers use three fiber types, but cannot run them all through one needle. Other manufacturers are forced to create alternating rows of different fiber types. Each of these fibers has a different look, so when rows are alternated, the field has a streaky look. Spike Zone Pro eliminates the problem and provides a strong, hard-wearing surface that looks great and can meet multi-sport performance requirements.
The construction project was completed over the summer, which turned out to be perfect timing since a rainy August and September has dumped over 14 inches of rain in the area since the beginning of the new school year.
Fall sports teams were the first to enjoy the new synthetic turf, but the new turf has also seen its first sophomore football game and a boys' soccer tournament. In addition to better preparing Stillwater sports teams to play up against other teams who are used to synthetic turf, it also opens up opportunities for the community to use the new facilities. Once the full renovation is complete, the school plans to host a celebration for the 2017-2018 school year.
Shaw Sports Turf Regional Vice President, Jason Kyzer, is proud to have partnered with Stillwater High School as they move forward with their renovation project.
"The new Shaw Sports Turf fields will not only benefit the school directly, but also the surrounding community," said Kyzer. "We are excited to watch this school and community grow, and happy to have been a part of the process."
ABOUT SHAW SPORTS TURF
A wholly-owned subsidiary of Berkshire Hathaway Inc., Shaw Industries is a full flooring provider to the residential and commercial markets. Shaw supplies carpet, hardwood, laminate, resilient, and tile/ stone flooring products, as well as synthetic turf. Shaw Sports Turf is one of the leading synthetic turf companies in North America and has represented quality and innovation for more than two decades with over 1,500 successful installations, including an impressive list of high-profile field installations. For more information please visit http://www.shawsportsturf.com, call 866-703-4004 or find us on Facebook.