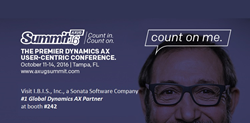 We are excited to attend AXUG Summit as a Gold Sponsor. It is a great platform to discuss business requirements, and offers customers easy access to our team and what they need.
Peachtree Corners, GA (PRWEB) October 06, 2016
I.B.I.S., A Sonata Software Company will be sponsoring the Dynamics Communities AXUG Summit next week in Tampa, Florida. Held annually, the AXUG Summit offers peer to peer relationship building as well as training on Microsoft Dynamics AX for attendees. I.B.I.S., and its parent company Sonata Software, will be a Gold sponsor of the event, highlighting the strength of the global company to support new and existing implementations of Dynamics AX. Sonata and I.B.I.S. together deliver a unique value proposition of industry leading IP based solutions for retail and distribution, scale, global foot print, managed services capability and the New AX (AX 7) and Dynamics 365 expertise.
I.B.I.S. & its parent company Sonata Software have industry specific solutions for retail and supply chain business available both on premise and now in the cloud via AppSource. Advanced Supply Chain Software™ for Microsoft Dynamics AX is a supply chain solution, designed to meet the needs of modern distributors and manufacturers. Additionally, Brick & Click for Dynamics AX is a retailing solution, that is a fully unified Omni-Channel Commerce platform. Both solutions are now available on Microsoft AppSource.
Ranga Puranik, President of I.B.I.S. states, "We are excited to attend AXUG Summit as a Gold Sponsor. It is a great platform to discuss business requirements, and offers customers easy access to our team and what they need. Being a part of this channel meet up where the cloud movement is so strong, we will be able to showcase our Dynamics AX strength, adding significant value for clients, prospects and Partners."
In addition to their industry solutions, I.B.I.S. and Sonata will be displaying their Dynamics expertise, including Dynamics 365, presenting details on their 100 + AX 7 resources, 5 AX 7 Implementations, and being the only company with a complete toolset to directly upgrade AX 2009 to the latest Microsoft release of AX 7.
About Sonata Software
Sonata Software is a global IT services firm focused on catalyzing transformational IT initiatives of its clients through deep domain knowledge, technology expertise and customer commitment. The company delivers innovative new solutions for Travel, Retail & Consumer Goods and Software Product Companies by integrating technologies such as Omni-Channel Commerce, Mobility, Analytics, Cloud and ERP, to drive enhanced customer engagement, operations efficiency and return on IT investments. A trusted long-term service provider to Fortune 500 companies across both the software product development and enterprise business segments, Sonata seeks to add differentiated value to leadership who want to make an impact on their businesses, with IT.
About I.B.I.S., Inc., A Sonata Software Company
Founded in 1989, I.B.I.S., Inc. A Sonata Software Company, provides digital transformation for distributors, manufacturers and retailers. Through a Strategic Developer Partner relationship with Microsoft, I.B.I.S. provides world-class solutions for enterprise resource planning (ERP), customer relationship management (CRM), business intelligence (BI), and application development. I.B.I.S. specialties include Microsoft Dynamics AX and CRM solutions focused on supply chain needs.
I.B.I.S., Inc. is a two-time winner of Microsoft Dynamics Outstanding Partner of the United States Award, a Worldwide Finalist for the Microsoft Dynamics AX Partner of the Year, Microsoft Dynamics 2015 Distribution Partner of the Year in the United States, a Microsoft Partner with Four Gold Competencies (ERP, CRM, Business Intelligence, Application Development), and a ten-time Microsoft Dynamics Inner Circle Partner. In addition, I.B.I.S., Inc. is among the very select few companies that are Microsoft Dynamics Global Independent Software Vendors for Dynamics AX and CRM.