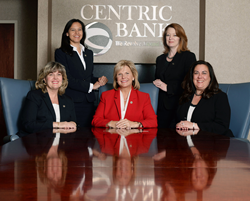 When I joined the team, I realized that through Patti Husic's efforts and example, Centric Bank fosters an environment absent from gender stratification. How refreshing that ability, ambition, drive, and performance set the mark for career development.
Harrisburg, Pennsylvania (PRWEB) October 06, 2016
Centric Bank has been named a Top Team in American Banker's 25 Most Powerful Women in Banking 2016, an exclamation point to CEO Patricia A. (Patti) Husic's intentional advancement of high-achieving women. It's a milestone year for Centric, with CEO Husic ascending to #17 in the Most Powerful Women in Banking list, as well as her team's honor. Centric Bank will be recognized October 6, 2016, at a dinner and awards ceremony at Cipriani in New York City, hosted by American Banker and parent company SourceMedia.
Centric Bank, a 92-employee strong community bank headquartered in Harrisburg, Pennsylvania, with offices in suburban Philadelphia, Lancaster, Mechanicsburg, Hershey, and Camp Hill is one of the few publicly traded banking companies with women in both the chief executive and chief financial officer roles.
Last year, Centric Bank boasted an expanded footprint, two successful capital raises—the most recent one oversubscribed not once but twice in 30 days—and an entirely new service area titled "Food Centric," which specializes in the agriculture industry. In 2015, Centric's net income increased 49% to $1.8 million, while assets surged almost 20%, to $373 million.
"Our success is further evidence that diversity delivers a competitive advantage," says Husic. "In this year alone, Centric Bank's executive women have been responsible for initiating a twice-oversubscribed capital raise, launching the CFCX ticker symbol, spearheading the PA Bankers Women in Banking initiative, growing a social media community, developing an Executive Women and Finance presentation series to strengthen Pennsylvania's business women, and creating a partnership with young professionals."
"Women comprise 60% of Centric Bank's workforce, a statistic not unusual in the banking world," says American Banker Executive Editor Bonnie McGeer. "But at Centric, three out of four of the corporate officers are women. There are only 13 listed U.S. banks with a female CEO and female CFO, according SNL Financial."
McGeer says that despite the lack of female representation at board tables, Patti Husic and her team recognize that no one blazes a trail alone—the women of Centric Bank are determined to bring an entire generation of younger women along with them.
At Centric Bank, women are not only recruited but challenged and developed to reach their full potential. "When I joined the bank, I quickly realized that through Patti's efforts and example, Centric fosters an environment absent from gender stratification. How refreshing that ability, ambition, drive, and performance set the mark for career development and advancement," says Michelle Carrasquillo, SPHR, SCP, VP Human Resources Manager.
Named #17 to the Most Powerful Women in Banking by American Banker, as well as Business Diversity Champion by the Harrisburg Regional Chamber/CREDC, and selected Business Woman of the Year by the Business Women's Forum of central Pennsylvania, CEO Patti Husic is not only an influencer in her community, she's also renown in Pennsylvania banking, having served as only the third female chair of the Pennsylvania Bankers Association in its 122-year history.
"For strategic initiatives that involve culture change to be successful, a top-down mandate is required. No institution in our region has such a strong female executive or managerial team. From 'First Search' on Google to the first impression you have when you enter Centric Bank, you realize we are unique. The optics tell the story—a female is CEO and three of the top five C-levels are women, and four of the five newest Bucks County team members are women," says Michele Light, Senior Vice President and Market Leader.
"We are attracting talented, highly skilled young women because they see our CEO keynoting at business events, leading one of the premier Women in Banking events in the country, and lending to women business owners," says Leslie Meck, Chief Retail Officer. "Our intent is to champion women in finance and be the best possible role models for aspirational women."
The Top Team includes Andrea Ahern, Mary Anne Bayer, Stacy Beeler, Deborah Block, Vickie Broughton, Michelle Carrasquillo, Peggy Elder, Tania Fleming, Patricia Husic, Michele Light, Leslie Meck, Veronica Rodgers, Cheryl Sakalosky, Sandra Schultz, and Gethen Wilson.
This annual ranking recognizes women for their impact on their company, the financial industry, and the community at large, as well as for their leadership skills and innovation in the face of professional challenges. The complete rankings can be viewed at American Banker's website and are featured in the October issue of American Banker Magazine.
About the Most Powerful Women in Banking and Finance
American Banker's Most Powerful Women in Banking recognizes the professional achievements and influence of the top-performing female executives in banking and financial services. The annual program, now in its 14th year, encompasses four lists: the 25 Most Powerful Women in Banking™, the 25 Most Powerful Women in Finance, the 25 Women to Watch, and the Top Teams in Banking. Rankings and details about the awards dinner are available at americanbanker.com/women-in-banking.
About American Banker
American Banker, a SourceMedia brand, is the essential resource for senior executives in banking and financial services, keeping its users updated on vital developments and focusing sharply on their most important concerns. Financial industry professionals turn to American Banker to stay maximally informed and engage with an authoritative community of analysts, practitioners and innovators through opinion content, research reports, social media, and live events. American Banker Magazine is a monthly print publication of American Banker, focusing on the ideas, the people, and the companies that are changing the way bankers do business.
About Centric Bank
A three-time Best Places to Work and Top 50 Fastest-Growing Companies for four years, Centric Bank is headquartered in south central Pennsylvania with assets of $463 million and remains the leader in organic loan growth in central Pennsylvania. A locally owned, locally loaned community bank, Centric Bank provides highly competitive and pro-growth financial services to businesses, professionals, individuals, families, and the health care and agricultural industries. With a Five-Star Bauer Financial Rating, Centric Bank is also ranked #1 in approved SBA 7(a) loans in the Eastern District as of August 31, 2016, which comprises 40 out of 67 counties in the Commonwealth. Centric Bank is also a Top 20 Lender for SBA Loans in the Philadelphia Region. Founded in 2007, Pennsylvania-based Centric Bank has financial centers located in Harrisburg, Hershey, Mechanicsburg, and Camp Hill, and loan production offices in Lancaster and suburban Philadelphia. To learn more about Centric Bank, call 717.657.7727 or visit CentricBank.com. Connect with them on Twitter at @CentricBank and Facebook at Centric Bank.
Centric Financial Corporation is traded over the counter (OTC-Pink) with the ticker symbol CFCX.
###