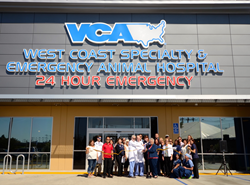 Our new multi-specialty VCA West Coast Specialty and Emergency Animal Hospital is a vital community asset that serves the needs of referring veterinarians and pet owners
Fountain Valley, CA (PRWEB) October 07, 2016
VCA West Coast Specialty and Emergency Animal Hospital celebrated its grand opening by inviting the public to an educational fun-filled day of family activities at its newly-opened specialty hospital on Saturday, October 1, 2016. For the past three years, design and construction has been underway on Orange County's most technologically advanced animal medical center conveniently located off the I-405 at 18300 Euclid Street in Fountain Valley.
"Our new multi-specialty VCA West Coast Specialty and Emergency Animal Hospital is a vital community asset that serves the needs of referring veterinarians and pet owners by offering the most progressive specialty and emergency care," said Art Antin, Chief Operating Officer for VCA Animal Hospitals. "We are pleased to welcome so many community members who helped us celebrate this milestone opening."
In addition to tours of the 25,000 square-foot facility and the opportunity to meet the hospital's professional healthcare team of specialists and emergency doctors, the open house featured a formal ribbon cutting ceremony with the Fountain Valley Chamber of Commerce and local elected officials. The full roster of activities included K-9 demonstrations by the Fountain Valley Police Department; search and rescue demonstration by the California Rescue Dog Association; and an exotic animal presentation and display by Prehistoric Pets. Guests had the chance to learn about pet CPR and how preventative nutrition can keep pets healthy.
Complimentary refreshments, food trucks and many fun activities for youngsters, including a photo booth, face painting and music by a DJ, made for an exciting and educational open house event for the whole family.
The new VCA West Coast hospital offers specialized care, diagnostics and treatment, including internal medicine, surgery, oncology, surgical oncology, radiation oncology, neurology, cardiology, dentistry, critical care, and 24/7 emergency care for dogs and cats.
It also features the most advanced technology for the benefit of every pet's diagnosis and treatment, including:
64-slice CT scanner that allows for improved image quality and speed. It's quicker, clearer and helps veterinarians provide more precise treatments.
1.5 Tesla magnetic resonance imaging (MRI) is the most powerful MRI being used for veterinary patients. High-field MRI produces clearer images in less time to provide more accurate diagnosis with less need for anesthesia.
Varian Triology Linear Accelerator is at the cutting edge of veterinary cancer therapy and can be used to deliver the widest range of external beam radiotherapy for cancer and neurosurgical treatments.
"At the heart of our new hospital's advanced care services are its board-certified veterinary specialists, who have access to extensive medical resources, including the VCA knowledge base, which allows our doctors to tap into the collected knowledge of over 3,500 VCA veterinarians nationwide," said J. Michael Walters, DVM, MS, DACVECC, VCA West Coast co-medical director. "Our goal is to deliver the highest quality patient care from our newest referral and emergency hospital in Orange County."
About VCA Animal Hospitals
VCA Animal Hospitals operates more than 650 small animal veterinary hospitals in the U.S. and Canada. The hospitals are staffed by more than 3,500 fully qualified, dedicated and compassionate veterinarians to give pets the very best in medical care, of which over 400 are board-certified specialists who are experts in areas such as Oncology, Cardiology, Emergency & Critical Care, and Surgery for animals. VCA Animal Hospitals provides a full range of general practice services to keep pets well and specialized treatments when pets are ill. For more information on VCA West Coast, please visit http://www.vcawestcoast.com.