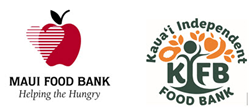 The giving back spirit from our Kama'aina on Maui and Kauai was amazing for this years "We Love Kama'aiana Month" promotion. Mahalo to all who zipped with us and generously donated to the Maui and Kauai food banks. Danny Boren, President
Maui, Hawaii (PRWEB) October 07, 2016
Skyline Eco-Adventures, Hawai'i's award-winning zipline tour company and operator of the first zipline course in the United States, launched their 3rd annual Skyline Loves Kama'aina resident promotion in September supporting local Food Banks on Maui and Kauai.
In September, Skyline Eco-Adventures offered free Zipline tours to Hawai'i residents with the donation of 10 non-perishable food items per person. Residents were able to experience ziplining on a choice of Skyline's two Maui courses, including Skyline Haleakala or Skyline Ka'anapali, along with Skyline Poipu on Kaua'i. The promotion zipped over 750 Kama'aina residents supporting the donation of more than 7500 food items to the Maui Food Bank and Kauai Independent Food Bank On Maui, the Maui Food Bank received over 7500 pounds of food which provides for over 9500 meals according to Stephanie Kaplan, Community Relations Manager for the Maui Food Bank. The Kauai Food Bank received 5614 pounds of food from the promotion.
In addition to Skyline's local community involvement Skyline Eco-Adventures is committed to giving back to local community groups, and as a member of 1% For The Planet, Skyline also donates at least 1% of annual revenues to local conservation causes. For more information on Skyline's charitable giving, visit http://www.zipline.com/community
Skyline Eco-Adventures will be holding its 6th annual Zip 4 The Trees fundraising event benefiting Maui's Children's Charities on Saturday November 12th on the Skyline Haleakala Course. Visit http://www.zipline.com/zip4thetrees for more information.
Skyline Eco-Adventures is Hawaii's most awarded zipline company and was selected among more than 100,000 picks in HAWAI'I Magazine's third-annual Reader's Choice Awards, earning top 2016 honors in three categories: No. 1 Zipline Company; No. 1 Zipline Course, Skyline Akaka Falls, Big Island; and No. 1 Land Activity/Adventure Tour Company in Hawaii. Skyline operates two Maui zipline tours at Ka'anapali and Haleakala, in addition to the Akaka Falls Skyline Adventure on Hawaii Island, and the Poipu Skyline Adventure on Kauai. Call (808) 878-8400 or visit http://www.zipline.com.