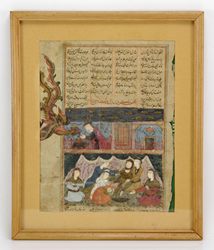 Beverly, Massachusetts (PRWEB) October 07, 2016
On a perfect fall day Kaminski Auctions held a spectacular onsite auction of the estate of Count Jochen Von Haller at Belmar on Eastern Point in Gloucester, Massachusetts. Located in a historic private residential community close to the Rocky Neck Art Colony, the Eastern Point Yacht Club, and the Beauport Museum the tent was standing room only with spectators and neighbors anxious to see the inside of this magnificent home.
With an excellent sell through rate the top lots of the auction included a ladies graduated diamond necklace 24 carats in total that sold for $10,2200 to a very happy bidder in the audience. Other diamond jewelry did well with a ladies diamond engagement ring of 2.50 carats, labeled "Ferdinand Maranola Diamantaire, Montreal, Canada" selling for $7,200 and a 6.0 carat platinum and diamond eternity band selling for $5700.
For over 100 years people have driven into Eastern Point and admired the beautiful solid bronze urn standing in front of the Belmar Estate. The 19th century urn was manufactured by the Ames Foundries of Chicopee Massachusetts and was elaborately decorated with phoenixes and Green Man medallions. The 62 inch high urn was hotly contested by online and in person bidders and finally sold for $9,600 to the audience. It will remain in Gloucester at another beautiful waterfront estate.
One of the largest paintings ever known to be painted by Emile Albert Gruppe (American, 1896-1978), titled "Bass Rocks, Gloucester, Massachusetts," oil on canvas, originally painted for Doctor George Doyle of Gloucester, signed and dated "1939," in it's original frame and measuring 40 inches high by 50 inches wide sold to the Internet for $9,000.
An antique carved mahogany grandfather clock, marked "Elliott London," with engraved silvered brass dial and hand-painted bridge and moon face, including nine tubes, weights, pendulums and key sold for $6,000 while two Antonio Jacobsen (Danish-American, 1850-1921), oil paintings sold for $3,900 and $3,500 respectively.
A 19th century Indian Mughal Empire silver figure, depicting a camel with rider and archer with 20.5 lbs. silver weight sold for $3,900 and a 19th century Turkish antique Oushak carpet sold for $3,360.
Kaminski Auctions October 15th auction features a Massachusetts collection of 18th and 19th century Persian illuminated painted manuscript pages, some under glass and pairs of 19th century Middle-Eastern painted bookplates.
As recently as July 2016 Kaminski achieved excellent results selling illuminated manuscripts from the collection of Baroness Mary McFall de Gunzburg of NYC and Miami Beach for over $240,000.
There seems to be particular interest in illuminated manuscript pages in part due an exhibition called "Beyond Words" in which three major museums in the Boston area including the Houghton Library at Harvard, MacMullen Museum of Art at Boston College and the Isabelle Stewart Gardner are having special exhibits from September 12th to December 11th, 2016 on illuminated manuscripts. The exhibitions are described as providing " a sweeping overview of the history of the book in the Middle Ages and Renaissance, as well as a guide to its production, illumination, functions, and readership. "
Other items of interest in the sale include a Russian silver walking stick with vodka cup finial and imperial eagle decoration, a Russian silver enameled icon triptych and a pair of Russian silver enamel pill boxes as well as are several important rugs of Tabriz, Serapi and Heriz design and much more.
The auction will take place on Saturday, October 15th starting at 10:00 am at the Kaminski Auction gallery at 117 Elliott Street (Rt. 62) Beverly, Massachusetts. Please not the change to Saturday auctions this fall. For more information go to wwwkaminskiauctions.com and sign up to bid with KaminskiLIVE.