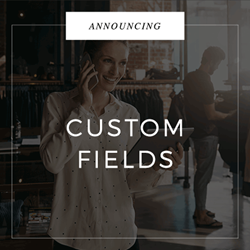 Custom Fields may be mapped directly to fields inside of Salesforce, ensuring a seamless flow of data and rules between the two systems
Severna Park, Maryland (PRWEB) October 07, 2016
CallTrackingMetrics®, a leading provider of call tracking software, announced this week the release of Custom Fields, allowing users to add fields critical to their business into routing, reporting and Salesforce integration flows.
With this new feature, users can add custom fields to capture specific information about the caller with the option to have it visible in the Call Log. Custom Fields may also be used to intuitively route calls when used in conjunction with CallTrackingMetrics's Smart Routing feature.
"These fields give businesses the ability to customize data collection and routing patterns. Imagine being able to route all callers by Account ID, Account Name, or Service Plan to specific queues of people in your organization. Or, direct them to specific IVR menu's tailored to their account. Callers immediately feel like they have gotten to the right place without hassle.", states Todd Fisher, CEO of CallTrackingMetrics.
Additionally, Custom Fields may be mapped directly to fields inside of Salesforce, ensuring a seamless flow of data and rules between the two systems.
To learn more about how CallTrackingMetrics is helping companies streamline operations, visit CallTrackingMetrics.com or call 800-577-1872.
About CallTrackingMetrics:
CallTrackingMetrics's award-winning phone system provides thousands of businesses around the world the tools they need to track, manage, and optimize their phone calls so they can increase conversions. From understanding what advertising campaigns are generating phone calls to routing and monitoring calls for their call center, CallTrackingMetrics allows businesses to transform phone communication into powerful intelligence for their organization. Integrations with systems like Google Adwords and Analytics, Salesforce, Marketo, and Optimizely ensure that calls are seamlessly integrated into existing reporting.