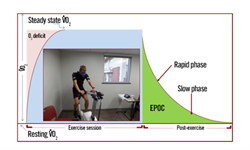 One of the benefits of wearing Kutting Weight Sauna Suit Clothing during physical activity is that it can elevate EPOC levels by up to 22%.
Van Nuys, CA (PRWEB) October 12, 2016
A new study reviewed on the ACE Fitness website by Dr. Lance Dalleck has shown the correlation between maximizing EPOC (Excess Post Oxygen Consumption) levels and fat burning. The methods discussed in the article from Dr. Lance Dalleck and Kutting Weight, LLC for boosting EPOC levels are simple, effective and could provide a helpful strategy for those suffering from obesity.
During exercise, the body uses a larger amount of oxygen than normal. This creates an oxygen deficit. Once a person finishes a workout, the body needs to pay back that oxygen debt. The amount of oxygen that the body consumes post-workout is referred to as EPOC.
The body is working hard to satisfy the oxygen deficit post-workout. These internal processes are using up calories in order to attain the needed oxygen levels. The more oxygen that is being consumed during exercise, the greater the oxygen deficit post-workout. Most importantly, the bigger the oxygen deficit, the more calories are burned trying to achieve homeostasis. This is exciting news for anyone who is struggling with weight loss.
There are several ways to ensure acceleration of the body's need for oxygen. The first method is to have at least one hour long training session per week. The second suggestion is to utilize High Intensity Interval Training, otherwise known as H.I.I.T. The third recommendation is to increase the amount of weight training that is being performed. Lastly, the most convenient way is to wear a sauna suit during workouts.
A sauna suit is made up of a durable neoprene material that safely increases the body's internal temperature triggering a metabolic response. Kutting Weight, LLC is a popular brand of sauna suit clothing that has been tested in several scientific studies to prove the benefits of the product. One of the benefits of wearing Kutting Weight sauna suit clothing during physical activity is that it can elevate EPOC levels by up to 22%. These suits activate the same benefits that Dr. Lance Dalleck mentioned in his EPOC article.
To learn more about the Kutting Weight, LLC sauna suit, read about the studies or get more information about the company, please visit KuttingWeight.com.