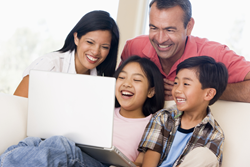 "Peachjar is a truly scalable solution that will ultimately help parents worldwide in setting their children up for success in life." Mike Durham, CEO of Peachjar
San Diego, Calif. (PRWEB) October 08, 2016
Peachjar, the first true parent engagement platform, announced today that in its 4th year in business, it has donated over $2 million in digital flyer distribution to organizations posting free, productive programs for kids. Programs like those offering free and reduced meals for children, free parenting classes, and free tutoring all share their information free of charge with parents around the U.S., thanks to Peachjar.
So what is Peachjar? Currently, one of the most trusted resources for parents is their local school when it comes to information about their children. Schools in the U.S. send home 5 billion paper flyers about important programs and events for children every year, but parents are lucky if they actually receive the flyers from their children! Peachjar solves this problem by replacing that 'child backpack distribution channel' with a digital communication channel that is free for schools and parents to use. Parents now simply get school and community program information delivered to their smartphones. Once Peachjar is implemented by the school, and trust is established with the parents, Peachjar becomes one of the parents' most valuable tools in helping them raise their children.
Most importantly, Peachjar is a channel that represents a broad array of important programs for children. While parents learn about soccer programs and summer camps via Peachjar, schools also send home digital flyers about Open Houses and fundraisers, as do providers of programs like 529 College Savings Plans, SAT Prep Courses, and free parenting courses like the recent Stanford-hosted event with the author of "How to Raise an Adult: Break Free of the Overparenting Trap and Prepare Your Kid for Success." Any free program or event like this gets shared free of charge via Peachjar, and all digital flyers generated by the school itself are shared free of charge.
Over the last few year years, Peachjar has garnered significant market share, without VC money and while operating very much in stealth mode. As Peachjar continues doubling year-over-year from a revenue standpoint, it continues to give back to the communities and schools that support it to ensure parents and their children have access to the most important programs for child growth and development.
"My vision for Peachjar came as I struggled with how to be the best parent I could be, and not knowing where to turn for the resources to guide me in that," says CEO Mike Durham. "Peachjar is a truly scalable solution that will ultimately help parents worldwide in setting their children up for success in life."
While there is currently no singular, recognized website or app that gives parents the information they need to best raise their children, Peachjar is at the forefront of aggregating this content, as well as the parents that consume it. With almost 50% saturation in Bay Area schools along with similar growth in most metropolitan areas and suburbs across the country, Peachjar is poised ultimately to be the singular, trusted parent engagement platform.
With Peachjar, parents now have a place to go, and a tool with which they can truly help impact the trajectory of their child's life. Learn more today by visiting http://www.peachjar.com.