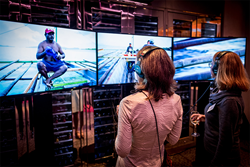 My focus has always been on the people and the local communities, both because it's right but also because it's also practical
Arlington, VA (PRWEB) October 07, 2016
Photojournalist Jason Houston will present an experiential photo and video installation at SXSW Eco on October 10-11 depicting daily life in two very different, but likeminded communities in the Philippines and Colombia. The global conservation group, Rare commissioned Houston to use photography and video to tell the immersive story of pioneering farmers and fishers who are introducing sustainable resource management practices to support both their families as well as the resources of the land and sea.
For more than 20 years, Houston, a Senior Fellow with the International League of Conservation Photographers, has documented communities, culture and how we live on the planet traveling to more than 17 countries across the globe. For nearly 40 years, Rare has empowered communities in over 50 countries by training local leaders to inspire behavior change for increased adoption of sustainable practices, a greater sense of ownership and heightened pride in community resources.
"I am a conservation photographer, but I rarely photograph the plants and animals and landscapes people think of when they think of the environmental movement. My focus has always been on the people and the local communities, both because it's right but also because it's also practical," said Houston.
The Rare photo, video and audio installations will tell the personal stories of Don Manuel Vicente Restrepo, a farmer in El Rincon, Colombia and Rodel Bolanos, a fisher on the island of Caringo in the Philippines. Through these visual and audio experiences, attendees will witness some of the ways these men and the communities in which they live, have made small, yet powerful changes in their daily processes and practices to be more in sync with nature and the natural resources around them. The installation highlights the inextricable link between these men's everyday work, lives and nature, and how Rare's programs are working with their communities to influence positive, sustainable behavior change.
Houston said, "At both locations represented in this installation I had the opportunity to live with the families we documented. Seeing and understanding their daily lives, we know the need for good conservation work in these areas — and perhaps most importantly — the need for Rare's unique community-based approach. In order to be effective at protecting forests or fish, we must first recognize, engage and even empower the local communities we live with and rely on those resources."
Through the powerful exhibition, these unsung sustainable harvesters of land and sea are brought to life vividly, demonstrating how it is within our reach to both use our resources and protect them, too.
ABOUT RARE
Ranked in the top 25 NGOs in the world by NGO ADVISORS, Rare is an innovative conservation organization that implements proven conservation solutions and trains local leaders in communities worldwide. Through its signature social marketing campaigns (called Pride campaigns), Rare inspires people to take pride in the species and habitats that make their community unique, while also introducing practical alternatives to environmentally destructive practices. Employees of local governments or non-profit organizations receive extensive training on fisheries management, campaign planning and social marketing to communities. They are equipped to deliver community-based solutions based on natural and social science, while leveraging policy and market forces to accelerate positive environmental change through programs in clean water, sustainable agriculture, and coastal fisheries. To learn more about Rare, please visit http://www.rare.org.
For more information and downloadable imagery, please visit our electronic press kit at https://www.rare.org/en-press-kit.