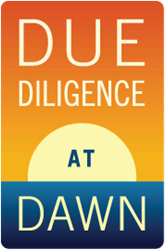 Shelton, Connecticut (PRWEB) October 07, 2016
EDR, the nation's provider of property risk information and due diligence tools, announced today that EDR's annual Due Diligence at Dawn (DDD) program will kick off on October 13th in Long Island, New York.
In its 23rd year, Due Diligence at Dawn is an educational series that gathers together environmental consultants and engineers in cities across the U.S. to explore the latest trends, technical challenges, and business opportunities in the property due diligence industry. Isaac M. Aboulafia, P.E, Executive Vice President at MECx, said of his participation at the spring DDD, "I found the market trends presentation particularly helpful in our FY business planning process. And the vapor tract helped me with a presentation I'm giving on the value of good due diligence and vapor intrusion."
At this fall's program, Dianne Crocker, Principal Analyst of EDR Insight, will cover what's happening in each city's local commercial real estate market and what environmental professionals should be doing now to prepare for the next cyclical market downturn. Anthony Buonicore, Chairman and CEO of The Buonicore Group and co-founder of EDR, will cover the impact of vapor encroachment in today's deals. For the first time, the program will also include a moderated panel of environmental professionals who will leverage their technical expertise to debate the most talked about Phase I ESA topics.
Due Diligence at Dawn will be in held in Long Island, New York October 13; Chicago November 3; Boston November 16, and Orange County, California on December 6. EDR's evening events (Due Diligence at Dusk) will be held in Oakland, California December 7 and Seattle December 8. The cost of registration is $25, with the fees being collected and donated to high-need schools across the U.S. in funding Science, Technology, Engineering and Math (STEM) projects through DonorsChoose.org. For more details about the program in each city visit http://edrnet.com/dddseminars/
About EDR
EDR serves the entire commercial real estate ecosystem delivering workflow technology and data. For over 25 years, EDR's goal has been to offer tools and reports that make the work of environmental due diligence professionals more efficient, effective and enjoyable. Its database contains over 3.1 billion historic records, including the most comprehensive repository of environmental and land use information in the United States. EDR also conducts market research and shares strategic intelligence through a variety of online channels and in-person events. Headquartered in Shelton, Connecticut, EDR is a subsidiary of DMGI, which is wholly owned by the Daily Mail and General Trust, plc (DMGT). http://www.edrnet.com.