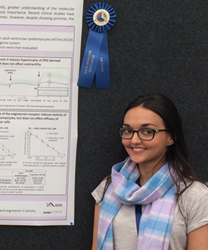 Recent clinical studies have demonstrated that medicines acting upon the angiotensin signaling pathway may reduce anthracycline-induced cardiotoxicity and improve clinical outcomes
San Diego, CA (PRWEB) October 10, 2016
Cardiotoxicity represents a major complication of many anticancer therapies, impacting the quality of life and overall survival of patients. Consequently, greater understanding of the molecular mechanisms responsible for these toxicities, and identification of therapeutic strategies to mitigate and overcome these toxicities are significantly important. However, despite showing promise, the molecular mechanisms responsible for toxicity mitigation are currently unknown. The majority of studies to date have either used inappropriate cell models or utilized end-point assays to evaluate this mechanism, both strategies that fail to account for the progressive nature of human toxicity development.
The xCELLigence® Real Time Cell Analysis (RTCA) instruments from ACEA Biosciences utilize gold microelectrodes embedded in the bottom of microtiter wells to non-invasively monitor the status of adherent cells (cell number, morphology, attachment quality) using the principle of cellular impedance. In short, cells act as insulators – impeding the flow of an alternating microampere electric current between electrodes. By monitoring impedance on the millisecond time scale the xCELLigence RTCA Cardio model tracks the intensity and periodicity of cardiomyocyte "beating" to assess cardiomyocyte contractility and viability.
Employing the RTCA Cardio technology with a human adult ventricular cardiomyocyte cell line and human iPSC-derived cardiomyocytes, Kim Rockley examined approaches for mitigating the renowned toxicity of the otherwise efficacious anticancer compound doxorubicin (an anthracycline). Citing that "recent clinical studies have demonstrated that medicines acting upon the angiotensin signaling pathway may reduce anthracycline-induced cardiotoxicity and improve clinical outcomes," Rockley first studied the effects of treating cardiomyocytes with doxorubicin or angiotensin II. Both compounds were found to induce hypertrophy without affecting contractility. Critically, Rockley next demonstrated that blocking the angiotensin receptor with the small molecule telmisartan mitigates the hypertrophic and cardiotoxic effects of doxorubicin. This strongly implicates angiotensin signaling as a player in the adverse effects of doxorubicin. Additional studies will be needed to understand this effect in molecular detail. Importantly, though telmisartan reduces the toxicity of doxorubicin in cardiomyocytes, it has no impact on the efficiency with which doxorubicin kills cancer cells. This suggests that modulating angiotensin signaling may be an effective means of protecting patient's hearts during chemotherapy.
For her presentation of the above work, in addition to winning the Junior Investigator Poster Competition at last month's SPS meeting, Rockley also received the Best Poster Presentation prize at the British Toxicology Society's Annual Congress in April, and the Best Annual Poster at the postgraduate colloquium of Durham University's, School of Medicine, Pharmacy and Health in June. Kim is currently one of four graduate students in Dr. Gill's laboratory utilizing xCELLigence technology for evaluation of drug-induced cardiotoxicity or efficacy of oncology therapeutics. In response to this news, Dr. Gill said "[I'm] very proud! Kim is an exceptional student." To view project, click here.
About ACEA Biosciences
Founded in 2002, ACEA Biosciences is a pioneer in the development and commercialization of high performance, cutting edge cell analysis platforms for life science research. ACEA's xCELLigence® impedance-based, label-free, real-time cell analysis instruments and NovoCyte® flow cytometer are used in pre-clinical drug discovery and development, toxicology, safety pharmacology, and basic academic research. More than 2,000 instruments have been placed globally, leading to >1,200 peer reviewed publications.
For more information, click here.
For further information please contact:
ACEA Biosciences, Inc.
Dr. Jeff Xue
Phone: 1-858-724-0928, x3075
email: jxue(at)aceabio(dot)com