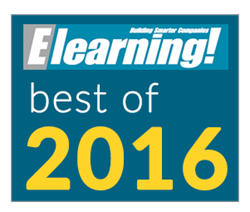 Los Angeles, CA (PRWEB) October 07, 2016
Learning executives and professionals worldwide have nominated and selected Vubiz as Best of Elearning! for 2016 for the fifth year in a row. Vubiz is selected for excellence in the Compliance elearning category.
The Best of Elearning! Awards program formalizes the "word-of-mouth" referrals practiced in the elearning industry and is the exclusive Industry Choice Awards. Elearning Media Group Publisher Catherine Upton said that 85 percent of professionals have personally recommended a learning solution to a colleague over the past 12 months and that 61 percent agree that award recognition impacted their buying decision.
We are in an exciting time of innovation, creativity and competition," says Catherine Upton, Group Publisher, Elearning! Media Group. "The Best of Elearning! awards recognize those brands that solve real business learning challenges. There is no greater honor than having your customers nominate and vote for these best-in-class solutions."
Vubiz President Jim Rapino said the nomination validates their commitment to the customer, "this award is especially exciting because it comes from our customers – we're thrilled to be nominated for the fifth year in a row."
In its 12th year, The Best of Elearning! Awards program is the industry gold standard for excellence.
Elearning! and Government Elearning! magazines, the industry voices of the enterprise learning and workforce technology market, announced the Best of Elearning! Awards 2016 Finalists this month. Readers and professionals from both the private and public sector cast more than 4,000 nominations for the best-in-class solutions.
Winners of each category will be revealed in Elearning! and Government Elearning! magazines in December.
About Vubiz
Vubiz is an award winning elearning company that provides comprehensive services from a large, impressive online library of courses, to customized courseware production to distribution with learning management software. Vubiz's vision is to help organizations become more competitive through the use of effective elearning and has built a superb reputation over the past decade of offering outstanding value and unbeatable customer support.