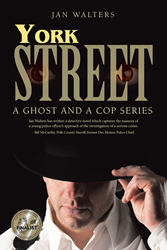 DES MOINES, Iowa (PRWEB) October 10, 2016
A Des Moines-area author has released the first book in a new crime thriller series that follows the trials and tribulations of police officer Brett O'Shea. "York Street," by Jan Walters, incorporates supernatural elements as O'Shea works to solve the decades-old mystery of his great-grandfather's murder.
Walters, whose family has four generations of Des Moines police officers dating back to the 19th century, was inspired to write a crime mystery series by stories of her great-grandfather's time on the force. She wondered what it would be like if he could see all of the changes technology has provided to law enforcement operations and culture today.
"'York Street' will appeal to readers who like thrillers, mysteries and ghost stories," Walters said. "I want readers to have fun with the book, cheer for the heroes and relish in the fact that good does overcome evil."
"Walters' plot is replete with a colorful cast, a combination of foils and a tight handful of antagonists – all designed for the purpose of developing her main character, Brett O'Shea," a reviewer wrote in a five-star review of "York Street." "Unique to Walters' third person narrative is the way she weaves in comedy and a bit of romance in the midst of a dark plot."
The book opens with the suspicious 1933 death of Mike O'Shea – a cantankerous Des Moines cop known for his knack for solving tough cases. Eighty years later, Mike's great-grandson, Brett, is tasked with solving the murder with help from a fedora-wearing ghost named Al. The pair goes on a perilous journey to solve the long-closed case and bring a paranormal perpetrator to justice.
"York Street" is a riveting read that will take readers for a ride on a supernatural roller coaster and leave them ready for the series' next book.
"York Street"
By Jan Walters
ISBN: 978-1-4917-4302-7 (paperback); 978-1-4917-4303-4 (electronic)
Available at the iUniverse Online Bookstore, Barnes & Noble and Amazon
About the author
Jan Walters and her husband grow produce on a farm in Iowa, which they then sell to local restaurants and farmers markets. Walters, who writes and researches her family history in her spare time, has had relatives serving on the Des Moines police force dating back to the late 19th century. Also the author of romance novel "Believe," Walters is currently writing about more of Brett O'Shea's adventures at her home in Indianola, Iowa. View a trailer for "York Street" at https://vimeo.com/183570288. To learn more about the book, visit http://www.authorjanwalters.com.
###
Review Copies & Interview Requests:
LAVIDGE – Phoenix
Danielle Grobmeier
480-998-2600 x 614
dgrobmeier(at)lavidge(dot)com
General Inquiries:
LAVIDGE – Phoenix
Kalin Batts
480-998-2600 x 524
kbatts(at)lavidge(dot)com