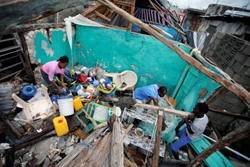 ShelterBox is working to enable families have access to emergency shelter and essential supplies
Sarasota, FL (PRWEB) October 08, 2016
Emergency shelter experts from ShelterBox are now in Haiti assessing damage and need in a country reeling from yet another natural catastrophe. Current reports estimate that Hurricane Matthew has left nearly 900 dead and 350,000 in need of humanitarian assistance. The government estimates that at least 28,000 homes have been damaged.
Floodwater, collapsed bridges, downed power lines – just a few of the barriers that await aid workers in Haiti, with many of the worst affected areas currently accessible only by air or sea. The US Navy is using helicopters to reach some communities and to airlift the injured, but the general picture that meets the ShelterBox team that arrived in Port au Prince yesterday evening is of medical, food, fresh water and shelter need that will present huge challenges over coming days and weeks.
ShelterBox's In Country Coordinator, Andrew Clark, says, "Our ShelterBox response team arrived in Port au Prince from the UK, USA, Canada and Germany. We landed in the dark and headed to our Haiti base, a secure compound close to the airport. Today the ShelterBox Response Team is conducting detailed research to gain a better understanding of need, reaching out to partners, and ascertaining the best fit from a geographical and operational stand point. We look to serve the most vulnerable and hard to reach communities, so we will play our role in shelter and logistics elements of the Global Cluster aid mechanism - this is where aid agencies and government officials work together to agree the most effective responses. We have ShelterBox aid both in country and close by in Panama, but we must first assess the type of aid required so that it is appropriate to each scenario."
In some locations on Haiti's southern peninsula as many as 80% of the buildings have been damaged or destroyed by Hurricane Matthew. In addition to storm-resistant tents and custom designed kits to make damaged buildings weatherproof, ShelterBox also supplies water filtration and mosquito nets to combat disease, and solar lighting where power is down.
"Speed of recovery may be helped by ShelterBox's model of pre-positioned aid – hundreds of tents and complete ShelterBoxes already await distribution in Port au Prince, and additional stockpiles of Shelter kits, mosquito nets and water filtration equipment are ready to be shipped from Panama. Additionally, 323 ShelterBoxes are aboard Dutch Navy vessels steaming out of Curacao," says Kerri Murray, President of ShelterBox USA. "We are committed to helping the people in Haiti recover from the devastation caused by Hurricane Matthew. As the poorest country on the Western Hemisphere, a large percent of the population affected was already extremely vulnerable before the hurricane hit. ShelterBox is working to enable families have access to emergency shelter and essential supplies."
ShelterBox responded previously in Haiti by providing roughly 1/3 of all emergency shelter to the country and helping an estimated 30,000 families following the 2010 earthquake. Additional responses to the country have followed multiple hurricane strikes as well as Superstorm Sandy in 2012.
###
Interviews with the ShelterBox team in Haiti may be arranged, communications and workload allowing. Please note Haiti is minus 1 hour from US EDT time. Request via calexander(at)shelterboxusa(dot)org or 941.907.6036.