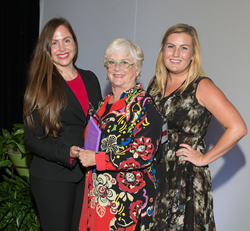 SCOTTSDALE, AZ (PRWEB) October 13, 2016
For almost a decade, Scheduling Institute has been helping tens of thousands of dentists and their employees to leverage their instinctive "conative" strengths to deliver exceptional customer service and expand their businesses. The Institute was recently honored for its efforts when it was named the winner of Kolbe Corp's Enterprise Award. The award honors an organization for using the Kolbe SystemTM of conative strengths assessments to achieve positive, quantifiable results in major projects.
By identifying and leveraging their own conative strengths, Scheduling Institute clients can more effectively reduce stress, increase productivity, and build vibrant dental practices.
Scheduling Institute certified trainers Elizabeth Sinclair and Caitlin Cummings accepted the award on behalf of the company at the Conation Nation Symposium in Scottsdale, AZ., on September 22.
"Conation and Kolbe solutions have been incredibly useful to our clients as they grow their businesses," Sinclair stated. "Kolbe helps our clients to confidently hire, train and retain the right people for the right jobs. Kolbe assessments allow our clients and their teams to eliminate communication issues, personality conflicts and other negative behavior in their offices."
"We are very pleased to recognize the Scheduling Institute for helping so many dental practices use conation and Kolbe solutions to grow their businesses and improve healthcare in our communities," said Kolbe Corp CEO David Kolbe. "The Kolbe Enterprise Award honors organizations that do an exceptional job of helping people to understand and apply their conative strengths and to enjoy the freedom to be themselves. The Scheduling Institute is a leader in advising dental and medical practices as well as the use of conation and the Kolbe WisdomTM, and it is certainly deserving of this award."
The Conation Nation Symposium took place at the Omni Scottsdale Resort & Spa at Montelucia. The event, which is dedicated to cultivating understanding of conation and inspiring action, featured presentations from leaders in coaching, human resources, and personal relationships as well as keynote addresses by Lincoln Financial Group Chief Human Resources Officer Lisa Buckingham and leadership development expert Suzanne Peterson, Ph.D.
Each individual's conative strengths help to determine how they solve problems when given the freedom to act instinctively. The conative part of the mind pertains to volition, striving and directed effort. Kolbe Corp has been the leader in research on conation for four decades. For most of the past century, researchers have focused on understanding and quantifying the cognitive and affective aspects of the mind while paying relatively little attention to the conative aspect.
About Kolbe Corp
For four decades, Phoenix-based Kolbe Corp has helped people identify their instinctive talents and use their innate abilities to succeed. Kolbe Corp's software, consulting, and personnel assessments are used by individuals and organizations throughout the United States and in 34 countries on five continents to find and develop top talent, increase productivity and build effective teams. Kolbe solutions are currently available in English, Spanish, French, Polish and German.
About Scheduling Institute
The Scheduling Institute was founded in 1997 by Jay Geier and quickly captivated the dental and medical specialty practices through its innovative formula to recruit new patients. Its expert training staff has been helping practices worldwide achieve their highest numbers for new patients and collections through training, coaching and mentoring programs in practice growth management. Scheduling Institute employs 200 people stationed throughout the United States and abroad.
###