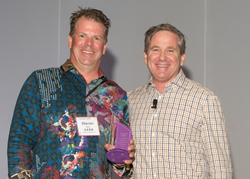 SCOTTSDALE, AZ (PRWEB) October 10, 2016
Warren Barry has a long track record as a successful entrepreneur and as an innovative healthcare professional specializing in pain management. Now, his list of professional achievements also includes "winner of Kolbe Corp's Professional Award." His work as a business owner and an advanced myofascial release therapist led Warren to establish Instinctive Solutions, which is dedicated to helping organizations and individuals understand their instinctive "conative" strengths and operate from a position of confidence and energy.
Warren, a well-known business consultant with a career spanning more than 20 years in the healthcare industry, became a Kolbe Certified™ Consultant in 2010 and began integrating Kolbe Wisdom™ into his practice to explore the correlation between conative stress and chronic pain.
"I am very honored to receive this award and thrilled for the recognition of our organization's efforts to help our clients live happier pain-free lives," Warren said. "I hope this award will lead to greater recognition of the role that Kolbe solutions can play in helping more patients to reduce stress in their lives and to overcome many of the healthcare challenges they are facing."
Warren received the award at the Conation Nation Symposium in Scottsdale, AZ., on September 22.
"We are very excited to honor such a dynamic and creative leader. Warren is an innovative and caring healthcare professional whose insight and creativity help his clients leverage their instinctive strengths to reduce stress and manage chronic pain," said Kolbe Corp CEO David Kolbe. "The Conation Nation Symposium is an important part of our mission, and with the Professional Award we're able to recognize and celebrate the efforts of our partners around the world."
The Conation Nation Symposium is dedicated to cultivating understanding of conation and inspiring action. The event featured presentations from leaders in coaching, human resources, and personal relationships as well as keynote addresses by Lincoln Financial Group Chief Human Resources Officer Lisa Buckingham and leadership development expert Suzanne Peterson, Ph.D.
For most of the past century, researchers have focused on understanding and quantifying the cognitive and affective aspects of the mind while paying relatively little attention to the conative (or volitional) aspect. The conative part of the mind pertains to how an individual solves problems when given the freedom to act instinctively. Kolbe Corp has been the leader in research on conation for four decades.
For more information about the Conation Nation Symposium, visit: http://www.kolbe.com/cns or email: kolbetraining(at)kolbe(dot)com.
About Kolbe Corp
For four decades, Phoenix-based Kolbe Corp has helped people identify their instinctive talents and use their innate abilities to succeed. Kolbe Corp's software, consulting, and personnel assessments are used by individuals and organizations throughout the United States and in 34 countries on five continents to find and develop top talent, increase productivity and build effective teams. Kolbe solutions are currently available in English, Spanish, French, Polish, and German.