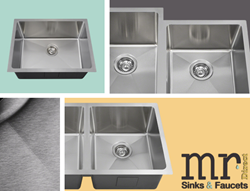 Stainless steel has remained the most popular kitchen sink material due to its durability.
Toledo, Ohio (PRWEB) October 26, 2016
The five styles in the ¾″ radius line of MR Direct kitchen sinks are stunning examples of how stainless steel is being put to exceptional use. Today, MR Direct is proud to announce that this collection of sinks is being cloned; identical in every way to its original models, but now built with an even-stronger, 16-gauge thickness.
While 18 gauge is already considered high-quality steel for residential use, the extra thickness of 16 gauge will add a little more stability to the unit. Although it would be difficult to dent an 18 gauge, the chances are even less at 16. The 16 gauge will further reduce any possible vibration when the garbage disposal is in use. Of course, any noise from running water in the sink will be even less noticeable as well.
Stainless steel has remained the most popular kitchen sink material due to its durability. Constructed of superior 304-grade stainless steel, any of the ¾″ radius models will stand up to a reasonable amount of abuse. In either thickness of stainless steel, a dropped dish will not chip it; a spilled glass of wine will not stain it; and the foul-odors of debris left in it will not linger. Further, sound dampening pads diminish any noise, while a sprayed-on undercoating prevents condensation.
The full line of ¾″ sinks includes the 3120 model in four forms, and the 1823. The equal-sized, nine-inch deep bowls of the 3120D provide plenty of room to divide chores. When food prep is a big part of the sink's purpose, the offset 3120L or 3120R fills the need. By occupying less space and being a bit shallower, the smaller sink in these two formats offers the perfect location for a disposal to be installed as well as leaving more room for chores in the larger sink. When maximum space is required to accommodate large items, such as oversized pots and bake ware, the wide, single-bowl, 3120S is the obvious choice. When space is restricted, the narrower 1823 model is the perfect fit.
All of the ¾″ radius sinks are designed to be mounted in the contemporary fashion, under the counter. Whether it's the standard 18, or the new 16 gauge thickness, the 3/4″ radius sinks are a practical and durable choice. All MR Direct sinks, faucets, and accessories can be viewed by visiting http://www.MRDirectint.com.