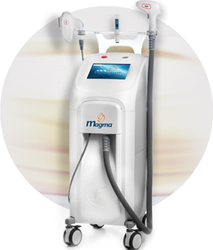 The breakthrough in technology will allow practitioners to more than double their income ...The new laser is more than 3x faster than the next fastest laser on the market
New York, NY (PRWEB) November 02, 2016
NY Laser Outlet provides quality aesthetic laser machines in the greater New York City area. They are now offering FormaTK's Magma Platform, an all-in-one system that revolutionizes light-based therapies. The platform combines the 808nm diode laser, 1064nm Nd:YAG, and IPL to provide a treatment that is painless regardless of skin type. Additionally the diode laser operates at 10hz, which makes it the fastest treatment speed on the market.
The 808m diode laser wavelength offers the deepest penetration levels and superior melanin absorption when compared to technology such as Ruby and Alexandrite. The deeper penetration and superior absorption makes the diode laser the most suitable technology for full body laser hair removal, enabling safe and effective treatment for all skin and hair types.
Diode lasers are now considered as the future of cosmetic laser hair removal that can meet the guaranteed satisfaction of people across the skin type spectrum. "The breakthrough in technology will allow practitioners to more than double their income. The new laser is more than 3x faster than the next fastest laser on the market. This is revolutionary, you can see four patients for a full back in one hour," said Ari Marom, director of sales at New York Laser Outlet.
Since laser hair removal was introduced in 1994, Ruby Laser, Alexandrite, and Nd:Yag became the usual standards for the industry. The Alex is intended for skin I-III types whereas "Yag" is meant for skin IV-VI types that require higher energies. "I'm Brazilian, we have darker skin and generally the laser treatment with a YAG is painful. This was superfast and pain free. I did my underarms in five minutes with the Diode and never had better results and such a fast treatment in my life," said Thays Barano, a long time laser patient.
The diode laser is specifically engineered using semi-conductor plates that are stacked together with an optical grove. The advantages include a longer wavelength, low voltage, speed, larger spot size, advanced cooling, and requires less sessions. The product is even more effective for darker skin tones as the skin is deeply penetrated without the epidermis getting damaged by a longer wavelength. The laser doesn't require more than a low voltage- 110 outlet. Additionally, larger areas are treated at a faster rate throughout the day, which results in savings on the electric bills. Since the diode lasers do not require a warm up time with laser rods, practitioners will be able to save time and treat more clients throughout the day.
"There are no risks and no skin damages because of the advanced cooling properties," said Ari Marom. Diodes are delivered directly to the skin using a sapphire block that's cooled to protect the epidermis from any damage.
For more information about the Magma Platform, please go to: http://www.nylaseroutlet.com/magma-formatk-diode-laser-hair-removal
About NY Laser Outlet
NY Laser Outlet is dedicated to providing the best service of used aesthetic laser machine in the greater New York City area. They service clients throughout the world providing a wide range of services and specializing in buying, selling, renting, repairing, and maintaining used cosmetic laser and IPL equipment. For more information, please go to: http://nylaseroutlet.com/