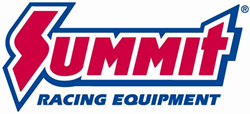 Tallmadge, OH (PRWEB) October 14, 2016
Summit Racing has created Hardcore Horsepower 582 Big Block Chevy Parts Combos. Built by Mike Petralia of Hardcore Horsepower and Dyno, the 582 cubic inch engine makes 805 horsepower at 6,200 RPM and 741 lbs.-ft. of torque at 4,700 RPM—a beast that can rule the streets in any heavyweight daily driver.
Short Block Combo
The short block is based on a Dart Big M iron block with a Scat forged crank, Lunati connecting rods, and custom-made pistons to provide 11:1 compression. The cam is a COMP Cams hydraulic roller that specs out at .680 inches of lift. Other parts include a Trick Flow timing set, King bearings, and a Powerbond harmonic damper.
Heads and Valvetrain Combo
To feed almost 600 cubic inches of engine, Mike Petralia went with Trick Flow's CNC-ported PowerPort® 365 cylinder heads. He swapped out the stiff solid roller cam valve springs for a softer spring set from COMP Cams that are more compatible with the COMP hydraulic roller cam. Rounding out the valvetrain upgrades are COMP 1.7 ratio Ultra Gold roller rockers, XD lifters, Hi-Tech pushrods, and Mr. Gasket MLS head gaskets.
Oiling System Combo
The 582 is lubed by a complete Moroso oiling system: Street/Strip wet sump oil pan, high volume oil pump, and dedicated pickup ensures proper oiling under any circumstances. Petralia used Joe Gibbs Driven 10W40 Break-In Oil and DR40 Motor Oil and Wix oil filters during the dyno sessions.
Induction and Ignition Combo
Petralia went with a Trick Flow Specialties R-Series single plane aluminum intake and a 1,050 cfm Quick Fuel QFX Series Dominator that needed just a little bit of dyno tuning to achieve excellent throttle response. An MSD Pro Billet distributor took care of the spark.
Completer Combo
The 582 got ARP fasteners including an Engine Accessory Bolt Kit, balancer bolt, and flexplate bolts. The fabricated aluminum valve covers are from Mr. Gasket, and TCI provided the forged steel flexplate.
Installing this engine/modifying a vehicle with these parts might not be emissions-legal in some states—check state and local laws before ordering.
Summit Racing Equipment
http://www.summitracing.com
1-800-230-3030