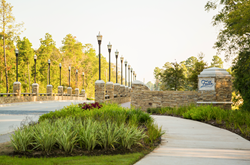 From its inception, The Falls' developers and designers have taken every step possible to retain the natural beauty of the area.
Houston, Texas (PRWEB) October 11, 2016
Saturday was a big night for Falls at Imperial Oaks at the Houston's Best PRISM Awards, presented by the Greater Houston Builders Association. The Holcomb Properties premier master planned community took home five awards and recognitions for Master Planned Community Entrance of the Year, Master Planned Community Recreation Center of the Year and Master Planned Community Landscape Design of the Year.
The award-winning Lake Club is Falls at Imperial Oaks flagship amenity, a 4,200 square foot facility with a luxurious lounge, gourmet kitchen, resort-style pool, outdoor patio, water playground and state-of-the-art fitness center. The Lake Club also serves as an event venue for 50+ community events throughout the year, inviting residents to get involved and create memories together.
In 2017, The Falls will open an additional 3,000 square foot recreation center on two acres within the community.
True to its name, Falls at Imperial Oaks boasts a stunning waterfall as the focal point of the community entrance on Northridge Forest, following an elegant bridge over Woodson's Gully and a grand stone monument. The landscape sets a serene ambiance, inspired by natural pines and hardwoods indigenous to the area. Native plants and floras provide a splash of color throughout.
"From its inception, The Falls' developers and designers have taken every step possible to retain the natural beauty of the area," says Brian Jarrard, Director of Land Development. "Our goal is to improve quality of life by offering premier lifestyle amenities in a stunning environment."
Falls at Imperial Oaks is now developing the last 500 home lots in the 2,200-acre community. Development includes new access roads, amenities, a 100-acre lake and 44-acres of a nature trail system known as Woodson's Gully.
About Falls at Imperial Oaks
Falls at Imperial Oaks is a premier master-planned community located east of interstate 45 in Spring, Texas. Lots and homes are available in eight sections, priced from the $200-$800s. The Falls continues to expand and build new homes, while offering access to natural wooded areas, hiking trails, lakes for fishing and waterfront lots.
About PRISM Awards
The Houston's best PRISM Awards recognize the industry's best in the categories of People, Product and Promotion. Entries are judged by an independent panel of industry experts from across the nation. The PRISM distinction has long been synonymous with the industry's highest caliber of excellence.