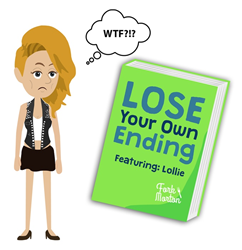 It's a ride that will leave you in stitches – the non-surgical kind – and feeling a lot better about yourself!"
Austin, Texas (PRWEB) October 12, 2016
Fork Morton is proud to announce the launch of the Kickstarter campaign for its book Lose Your Own Ending: Featuring Lollie. The book puts an adult comedic spin on the highly successful "Choose Your Own Adventure" children's series with lonesome lead character Lollie's misadventures through plastic surgery as a cure-all to her First World problems.
"With our book, the audience is the hero not our main character," said Kristina Lindsey, founding member of Fork Morton. "Lollie is fun and funny, but she deserves every bad ending that's coming to her. Readers will delight in the active role they take in ensuring self-absorbed, narcissistic Lollie receives her just desserts. It's a ride that will leave you in stitches – the non-surgical kind – and feeling a lot better about yourself!"
Lindsey continued, "Yes, we're dishing out a healthy dose of social commentary, but don't worry, it only enhances the comedy. With over 50 unique endings, our book will serve up laughs for read after read – all extremely outrageous and satisfying, especially for anyone with a Lollie of their own in their life."
The fundraising campaign began on Monday, October 10, 2016 and will run through Wednesday, November 9, 2016. Money raised will go toward engaging an illustrator to complete the book. Rewards for supporting the project include signed hardcover copies of the books, Lollie coloring books, Lollie magnet sets, do-it-yourself plastic surgery kits, story contributions, and even being immortalized as a character in a personalized version of the book.
E-copies of the book can be pre-ordered on Kickstarter for as little as $12. To watch the book's teaser trailer, contribute, or read more about the project, visit https://www.kickstarter.com/projects/318607862/lose-your-own-ending-featuring-lollie.
Fork Morton is a creative collective of writers who focus their talents on publishing, screenwriting and the occasional podcast. In 2015, Fork Morton wrote and directed short film Loving Olivia, which was honored with multiple film festival acceptances. Headquartered in Austin, Texas, their mission is simple: to make the people laugh. For more information, visit http://www.forkmorton.com.