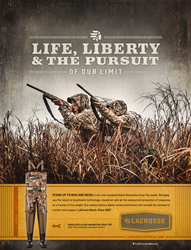 Shine really understands our brand and our consumer, and as a result, they have built messaging that not only speaks to the great folks who wear our boots but it also connects with them on an emotional level.
Madison, Wisconsin (PRWEB) October 11, 2016
Shine United and LaCrosse Footwear have partnered to develop and launch a new brand campaign that pays tribute to the hard-working people that have defined the "LaCrosse family" since 1897. Launched in July 2016, the new advertising campaign is a culmination of brand strategy and target research conducted by Shine United to refine the LaCrosse Footwear brand messaging.
"I have a deep respect and admiration for the people who wear our boots every day – they are some of the hardest working, most dedicated individuals out there – and it was important to me that we built a campaign that was genuine and accurately represented them," said Nicole Orr, Senior Marketing Manager at LaCrosse Footwear. "This campaign is two years in the making and we couldn't be happier with how it came together. Shine really understands our brand and our consumer, and as a result, they have built messaging that not only speaks to the great folks who wear our boots but it also connects with them on an emotional level."
The campaign speaks to both hunters and those living a rural lifestyle through full-page print advertising, digital display advertising, brand and product video, national television commercials, in-store point of sale materials, radio and out-of-home advertising. Shine United expects to grow consumer preference and loyalty as well as increase awareness and consideration from both audiences as a result of the campaign that runs through spring 2017.
BRAND VIDEO
The :60 second video, titled "We Build Our Boots For You," spans the multitude of environments the LaCrosse lifestyle represents; a farmer beginning work before dawn, the first family turkey hunt of the season, snowmobiling, waterfowl hunting, ice fishing, bow hunting and backyard bonfires are just a few of the moments LaCrosse boots are built for. The voice over speaks directly to the viewer, "We build our boots for you. For the mud-covered soul whose passion can only be fed by the endless thrill of the chase. For the rugged of spirit and relentless of heart. We build our boots for the hardworking farmer who wakes up before the sun has even poured its first cup of coffee. … For all of you are the LaCrosse family. The ones we have been building our boots for, for over a century."
HUNT PRINT ADS
Bold print ads feature photography of waterfowl and bow hunters in their element with a rugged text overlay. Each headline resonates with passionate hunters; "We pledge allegiance to the hunt" and "Life, liberty and the pursuit of our limit." Inset body copy highlights the advantages of LaCrosse brand technology and construction while featuring product.
RADIO
The radio scripts in :30 and :60 seconds hold true to the brand message of pride in the rural lifestyle. "At LaCrosse boots, we salute the land. The rolling acres you've come to know like the back of your own hands. The fertile soil where your family has grown and your everyday moments have blossomed into everlasting memories. For this land is your land, your bedrock, your private parcel of earth that keeps you firmly grounded to what truly matters most."
DONE RIGHT SINCE 1897
LaCrosse Footwear has been an expert in the category and leader in the industry for over a century, making reliable rubber boots that perform day in and day out, season after season. Whether you're working the land, pouring the concrete or pursuing your passion, anyone can wear LaCrosse boots.
"LaCrosse Footwear, and its customers, are authentic and reliable to the core. They value tradition and the legacy they will leave behind," said John Krull, creative director at Shine United. "This campaign does an excellent job resonating with those customers and championing the family of hard-working people that is LaCrosse Footwear."
CONTACTS:
SHINE UNITED: Aleah Schroeder / aschroeder(at)shineunited(dot)com / 608.442.7373
###
About LaCrosse Footwear, Inc.
LaCrosse Footwear, Inc. is a leading developer and marketer of branded, premium and innovative footwear for expert work and outdoor users. The company's trusted Danner® and LaCrosse® brands are distributed domestically through a nationwide network of specialty retailers and distributors, and internationally through distributors and retailers in Asia, Europe and Canada. Work customers include people in law enforcement, agriculture, construction, industry, military services and other occupations that need high-performance and protective footwear as a critical tool for the job. Outdoor customers include people active in hunting, outdoor cross training, hiking and other outdoor recreational activities. For more information about LaCrosse Footwear products, please visit our Internet websites at http://www.lacrossefootwear.com and http://www.danner.com.
Shine United
Shine United is a $41 million advertising, design and interactive agency located in Madison, Wisconsin. The privately held company's client roster includes national brands such as Harley Davidson, LaCrosse Footwear, Wisconsin Cheese, GORE-TEX® Running Footwear, Amazon.com, Winston Fly Rods, and Kohler Co. Shine is an environment where creativity, brilliance and teamwork are allowed to flourish – part of the reason we were named one of the best places to work by Outside Magazine the past three years.
Learn more at ShineUnited.com. Shine On.