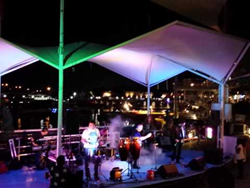 Miami, FL (PRWEB) October 12, 2016
The stage at Miami's popular Bayside Marketplace will be the city's hub for live musical performances this season as a variety of local bands are scheduled for a complimentary concert series, open to the public, by Let's Make a Daiquiri. These live shows will consist of a number of local musical groups and performers.
Every day of October, visitors to Bayside Marketplace can expect two performances; During the weekdays, the earliest performance will go from 2pm to 6pm and the second performance is scheduled from 7pm to 11pm. Fridays, performances are slated from 3pm to 7pm and again from 8pm to 12am. Saturday shows are scheduled from 2pm to 7pm and 8pm to 12am and finally, Sundays, the earlier performances go from 1:30pm to 5:30pm and the later shows are from 7pm to 11pm.
The scheduled acts span a wide range of musical genres, including alternative, Latin and tropical music, blues and jazz, ultimately offering something for everyone. Some of the scheduled performing acts include Maria Con Azuca, a latin music band, performing each Saturday afternoon; Ike Woods Blues Band, a jazz and blues duo; a worship-rock band known as Face 2 Face; rock band Clockwork; latin band Brazilian Explosion and many more.
Known as the heart of downtown Miami, Bayside Marketplace is loved by locals and visitors alike. Let's Make a Daiquiri is a centrally located, open air bar situated right next to the Bayside stage, with seating offering optimal views of the bay, the Port of Miami and the stage where the fall concert series takes place.
About Let's Make a Daiquiri
For over 32 years Let's Make a Daiquiri has been serving drinks in Miami and is known to have the best Piña Colada in the city. With two locations available, one in Dolphin Mall and the other at the Bayside Marketplace, Let's Make a Daiquiri is a South Florida staple. Specializing in frozen drinks, all made from scratch with fresh fruit, it was recognized as the Best Frozen Drink Bar by the Miami New Times in 2013. Along with frozen drinks, the popular also carries well and top shelf liquors and spirits, virgin drinks and smoothies, excellent customer service and locations that deliver great ambience and experiences.