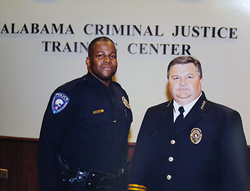 People with disabilities are just like any other people," Kenneth says. "Ultimately, that's what employers should see.
Mobile, AL/Pensacola, FL (PRWEB) October 14, 2016
Kenneth Johnson Jr. has found his dream job working as a police officer at the University of South Alabama. It's also the place where he earned his degree while playing college football. "It's home for me," he says. Kenneth has found his niche, but there were challenges to tackle along the way.
In elementary school, Kenneth began having trouble paying attention, and was diagnosed with attention-deficit/hyperactivity disorder (ADHD). In high school, his counselor suggested looking into Vocational Rehabilitation (VR) for help planning his career future. VR is a federal-state agency that helps people with disabilities get or keep a job. Kenneth decided to give it a try. He then began meeting with counselor Carol Archie.
According to The National Resource on ADHD, approximately 10 million adults are diagnosed with ADHD. This disorder may hinder academic and career success, resulting in unemployment. Carol was not going to let Kenneth become another statistic.
"Kenneth showed a lot of independence. He was the one who came in by himself," Carol says. "It was hard for him to focus sometimes with ADHD, and he needed a lot of encouragement. We were able to provide ongoing vocational guidance and counseling."
Earning a college degree and playing football had always been a dream of Kenneth's, but when he wasn't offered a football scholarship on the University of South Alabama team, he wasn't sure what to do. VR made playing as a walk-on offensive lineman a reality by providing housing and other financial means to keep him afloat.
"Thanks to VR, I didn't have to worry about where to stay," Kenneth says. "I knew I wanted to go to college, but I didn't have the resources. They helped me do that and allowed me to focus on academics and not finances."
Kenneth's college experience didn't only include playing football. He also dedicated himself to his degree in Criminal Justice. Carol agrees that being a police officer was the perfect path for him. "He is very respectful to everyone," she says. "You could look up to him, as a person, and an officer."
After Kenneth completed his degree, he was offered an internship at the University of South Alabama Police Academy, which turned into a job offer. He says the favorite part of his career is the interaction he has with students. He even speaks at orientation. "I love talking to freshman who have no idea what they are getting into," Kenneth says. "I like to give them insight on how to manage their time and how to make themselves successful."
Kenneth doesn't let his ADHD keep him from focusing on his ambitions, and believes it contributes to his strong work ethic. He believes employers should view it the same way. "People with disabilities are just like any other people, except that we have to work twice as hard to get over that disability," he says. "Ultimately, that's what employers should see."
If working full-time as a police officer wasn't enough, Kenneth is also earning his Master's degree. Scheduled to graduate in spring of 2017, Kenneth is earning a degree in Time Management and Discipline.
"I knew I wanted to further my education and do something that is bigger than me," Kenneth says. He also knows that Carol is one of the reasons he is able to do so. "She really wanted to help me become successful," he says. "She is still a part of my life, and I really appreciate all that she has done."
About Vocational Rehabilitation
Florida's Vocational Rehabilitation (VR) is a federal-state program committed to helping people with disabilities become part of America's workforce. The employer-focused website, https://abilitieswork.employflorida.com/, allows businesses to search at no charge for employees who are ready to go to work, as well as to post available jobs. VR has 90 offices across Florida, and last year helped 5,760 Floridians with significant disabilities find or keep a job. For more information about VR and its services, call (800) 451-4327 or visit http://www.Rehabworks.org.