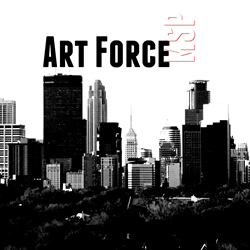 Each element of Art Force MSP has been designed to balance the unique needs of specific members of the Twin Cities creative community.
Minneapolis, MN (PRWEB) October 12, 2016
Art Force announced today a new program that puts art education, artist empowerment and charitable contributions front and center in the Greater Minneapolis/St. Paul area. Art Force, located in the #1 nationally ranked Northeast Minneapolis Arts District, is calling the program Art Force MSP for its focus on strengthening the creative economy in the Twin Cities and the State of Minnesota. By providing free education, resources and opportunities to critical groups within arts and charity communities, the program is designed to benefit Art Force's community of artists, clients and charitable organizations around the state.
Art Force MSP, consisting of Art Force's comprehensive art services, Art Force Academy and Art Force Community Fund has, in just over three years, accounted for over $100,000 in cash and other contributions to charitable organizations in the Twin Cities and out state Minnesota. Health challenged artists and associated organizations have been the largest recipients.
"Each element of Art Force MSP has been designed to balance the unique needs of specific members of the Twin Cities creative community." says Bill Kieger, Art Force President. "The goal is to better utilize untapped resources while creating 'win-win' scenarios for local business and healthcare organizations, artist entrepreneurs and charities through a cycle of educating, generating economic opportunities and giving within the creative community."
Art Force MSP – How it Works
Art Force prides itself on pursuing its mission as the Premier Provider of Artwork Services and since inception in 2009, has processed and distributed over 30,000 pieces of artwork for organizations of all types and sizes from its home base in Northeast Minneapolis.
Art Force Academy online, (ArtForce.Academy), was formed earlier this year with free enrollment for the general creative community, offering specific curriculum programs for artist entrepreneurs and professional art consultants. Enrollment has grown steadily and is currently just under 5,000.
As client-partners utilize the services provided by Art Force and the artwork provided by artists, contributions are made to the Art Force Community Fund that in turn are awarded to charities selected by an advisory board. Another group of volunteers from Art Force have donated time, food and creative expertise to various causes. Health challenged artists have been able to distribute artwork through the Wings Suite: Empowering Health Challenged Artists. Nearly 1,000 pieces of art created by more than 100 artists have been purchased mainly by major healthcare facilities throughout the state and country. Proceeds have gone directly to eight separate organizations and the participating artists.
Over 150 client-partners have given back to the community through the artwork purchases they've been making. "Art Purchase with a Purpose" is one of the slogans being developed. Other strategic partners such as architect and design firms and office furniture distributors have also engaged.
Providing strategic direction for Art Force MSP, Art Force has also worked closely with the City of Minneapolis to help execute goals laid out in the Minneapolis Creative City Roadmap. Since 2012, Art Force President, Bill Kieger, and Director of Art Services, Leslie Palmer-Ross, contributed to the Creative Vitality Index and served on the Work Group Teams for the Creative City Road Map. Fully embracing the goals and objectives of the city, Art Force has strategically aligned their initiatives to help achieve the goals outlined in the Creative City Roadmap.
Another critical element to Art Force MSP is creating strategic partnerships with local high schools. Art Force believes that by educating our youth with entrepreneurial-focused, vocational training, those students will have a leg up as they enter the job market. The burgeoning program is working closely on creating guest lecturing opportunities and becoming part of a network of business professionals who can speak to students about real world experience.
By providing financial assistance to those who need it most, donating a portion of all sales to charity, empowering health challenged artists and providing free educational resources and tools for artist entrepreneurs, Art Force is taking a holistic approach to addressing the Twin Cities and the State of Minnesota's most pressing creative needs. The creative economy of any city can greatly bolster commerce, creativity, culture and much more. Through Art Force MSP, Art Force hopes to do more for their community, create robust opportunities for artist entrepreneurs and stimulate the local creative economy.