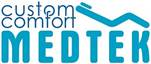 "We are proud to continue to serve our acting military and veterans community."
Winter Park, FL (PRWEB) October 31, 2016
Custom Comfort Medtek (CCM), a market leader in the manufacture of fine medical furniture and supplies, is pleased to announce the renewal of its VA FSS contract certification.
A valid VA FSS contract allows CCM direct access to many federal buyers, including the Veterans Administration (VA).
"We are proud to continue to serve our acting military and veterans community," said CCM Vice President Chad Dunbar. "Pursuing a VA FSS contract is a rigorous process and not everyone gets one. You can't just submit an application and be awarded a contract.
CCM also is proud to be able to serve the acting military and veterans community."
VA FSS contracts are issued for a five-year period. The new contract marks CCM's 11th year as a VA FSS contract holder. CCM's new contract number is V797D-60729 and will be in effect until Aug. 31, 2021. The previous contract number was V797P-4954A.
While not a requirement for doing business with the federal government, a VA FSS contract simplifies the bidding and sales processes and offers contract holders a number of advantages over non-VA FSS competitors, including pre-negotiated prices and access to massive online GSA listings where buyers can search out products or services. The GSA oversees an estimated $66 billion of procurement annually.
Custom Comfort Medtek does not state or imply that the Department of Veterans Affairs endorses a product, project or commercial line of endeavor.
About Custom Comfort Medtek
Since 1987, Winter Park, FL, based Custom Comfort Medtek has manufactured medical furniture and related products designed to fit specific clinical needs. All CCM products are made in the United States, and the majority of materials and components are sourced from domestic vendors. CCM sells its products to medical facilities throughout North America and around the world. For additional information, visit http://www.CustomComfort.com or call 1-800-749-0933.