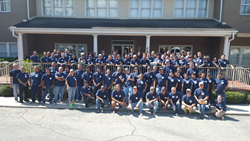 Houston, Texas (PRWEB) October 14, 2016
Gables Residential has been giving back to its community in many ways around the country. One of the most significant ways has taken place over the past 16 years by dedicating a day where all associates come together in their respective regions to focus on giving back to a worthy cause. Gables Day encompasses a full day in each region throughout the fall where approximately 1,000 associates come together to volunteer their time and share in the experience of this special day. Since 2000, Gables Day has resulted in contributions of over $1.2 million in goods and services and approximately 125,000 hours of labor and dedication by Gables associates.
In Houston, Gables Day recently took place at The Covenant House Texas, a shelter for homeless, abused and abandoned youth ages 18 – 20. In conjunction with many strategic partners and their respective donations including Comcast and PPG Paints, the day was spent on projects such as painting, building, cleaning-up and enhancing the living overall environment. "Gables Residential did an outstanding job. Everyone seemed excited and energetic, and took care of several maintenance issues in the shelter with professionalism and skill. I was impressed with the way all of the Gables participants approached each task with enthusiasm and energy. I hope you will choose Covenant House Texas again to perform such extraordinary work," stated John Lampson, Director of Finance, at Covenant House Texas. Joshua Landry, Area Vice President Investments for Gables also shared, "It's so rewarding to be able to give back to our community through efforts like Gables Day. It is a part of our corporate culture and truly represents our heart toward service and our neighbors."
About Gables Residential
Gables Residential is an award-winning, vertically integrated, real estate company and privately held REIT specializing in the development, construction, ownership, acquisition, financing and management of multifamily and mixed-use communities. Gables Residential owns, develops and manages communities in high-growth U.S. markets such as Atlanta, Austin, Boston, Dallas, Denver, Houston, South Florida, Southern California and metropolitan Washington, D.C. Gables also provides third party management services in the New York, Baltimore, Frederick, Tampa, Phoenix, Seattle, Charlotte, Central and North Florida markets. Gables manages over 31,000 apartment homes and approximately 550,000 square feet of retail space and has received national recognition for excellence in development, construction, management, sales, marketing, learning and development, benefits and corporate accommodations. These achievements reflect the impact of our experienced and dedicated team members, our superior knowledge of the markets served, and our expertise in development and management.