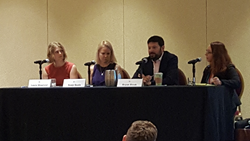 The challenge is wading through the data to get insights that better serve patients.
Louisville, KY (PRWEB) October 12, 2016
CareSet Systems CEO Laura Shapland addressed making healthcare data more accessible and easier to use during this week's Louisville Innovation Summit, an annual event where this year innovators and executives gathered to address the future of aging care.
CareSet Systems currently uses all of Medicare A,B, and D to help guide drug launches. She was joined onstage by former Health and Human Services Chief Technology Officer Bryan Sivak and PharMerica's Chief Clinical Officer Sonja Quale for a conversation around how they are using health data and to talk about its future in healthcare. "The challenge is wading through the data to get insights that better serve patients," said Shapland.
"Medicare data opened by CMS in recent years is being used at all levels of the healthcare industry, from entrepreneurs to pharmaceutical companies to post-acute providers," Shapland continued. "If Medicaid and Medicare Advantage data follow, we'll soon understand how a third of all healthcare dollars are spent."
Keynote speaker Esther Dyson spoke about her new initiative for healthy cities called "The Way to Wellville" and Cambia Health Solutions Chief Executive Officer Mark Ganz was joined by Kindred Healthcare's Chief Medical Officer Marc Rothman, MD to address how empathy leads to innovation. The conference concluded with Alexandra Drane urging innovations in palliative care during her keynote on "A Bad Death is a Con."
About Careset Systems
CareSet Systems (https://careset.com) is the nation's first vendor with access to 100% Medicare claims and enables the nation's leading pharmaceutical companies to decode Medicare claims data to guide new drug launches.