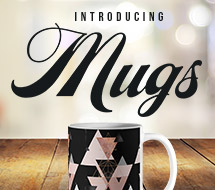 A mug isn't just a vessel for beverages; it's a reflection of our identity. It can express humor, experiences, fandom and sarcasm.
Chico, CA (PRWEB) October 18, 2016
Coffee Drinkers of the World, Rejoice!
Having already made a name for themselves in the apparel market, artistic collective Design By Humans (DBH) has expanded their product range, with the addition of coffee mugs to their already vast and exceptional site, available online from October 14, 2016. The release of coffee mug art gives designers yet another item on which to display their art and provides consumers worldwide with an even greater selection of merchandise.
There has been an extremely high demand for coffee mug art from the DBH community and DBH answered their customers' call and then some. With over 1,000 designs to choose from, that you won't be able to find in your local homewares isle, from floral foxes to Tetris Mario Brother's Mushrooms, and even presidential sloths. DBH manages to provide unique and creative artist coffee mugs for the affordable price of $15, while maintaining their renowned high standard of quality.
"A mug isn't just a vessel for beverages; it's a reflection of our identity. It can express humor, experiences, fandom and sarcasm. Why would you ever want to drink out of a boring mug again?" says Designer and coffee bean enthusiast, Josh Smith.
Each 11oz mug boasts 360 degrees of wrap-around art, so regardless of whether you're into Turkish coffee, or prefer decaf coffee, or even tea (if you're in the UK, remember DBH delivers to over 180 countries worldwide.) Rest assured your coffee cup art will look great no matter what side you're holding. In addition, each ceramic coffee mug and is completely safe to use in both the dishwasher and microwave.
Artist coffee mugs are available in a variety of designs at http://www.designbyhumans.com/shop/mugs/. Get yours today!
Artists and graphic designers interested in joining the DBH community are encouraged to open a store and submit their designs at https://www.designbyhumans.com/become-an-artist/.
About Design By Humans
Design By Humans is a creative community of t-shirt design lovers, and a diverse marketplace featuring graphic tees, hoodies, zip up sweatshirts, tank tops, crewnecks, phone cases and wall prints from over 15,000 international artists from all around the world. Furthermore, the DBH Collective initiative empowers artists by giving them a unique platform to share t-shirt designs and artwork through their own online storefront. Artists can upload artwork and place it on merchandise that fans can purchase from their personal online store.
Embedded in the culture of Design By Humans is a passion for brilliant design, detailed illustration and a strong appreciation for all things creative. DBH is a society of artists, fashion gurus and expressive humans.
Design By Humans is online at http://www.designbyhumans.com and can be followed on Facebook at /DesignByHumans, on Instagram at DesignByHumans, with #designbyhumans, and on Twitter @DesignByHumans.