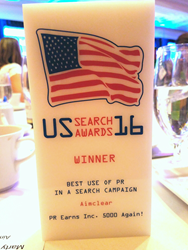 "By aligning great content in a master editorial calendar and getting it directly in front of the right people at the right time, our campaign exceeded all objectives." - Marty Weintraub, Aimclear Founder
Duluth, Minn. (PRWEB) October 13, 2016
The top players in search, social and big data marketing are in Las Vegas this week for the annual Pubcon conference, which includes an awards ceremony recognizing innovative firms for exceptional work. Duluth-based Aimclear® took home top US Search Awards honors for best use of PR in a search campaign during 2016. Aimclear founder Marty Weintraub and members of the Aimclear team were on hand to accept the award.
Aimclear scored the PR-specific award for a campaign focused on propelling its own business in the hyper competitive marketing industry. The company embarked on a year-long innovative integrated search/PR campaign with a goal of substantially increasing revenue. To achieve this objective, Aimclear marketing pros combined advanced paid and organic search campaigns with highly targeted amplification to key reporters, columnists, bloggers and digital marketing conference organizers.
"Our team crafted amazing content targeted at the key influencers in the marketing field, redefining how PR can integrate beautifully with search and social campaigns," said Marty Weintraub, Aimclear founder. "By aligning great content in a master editorial calendar and getting it directly in front of the right people at the right time, our campaign exceeded all objectives."
Key campaign elements included placed articles, the development of a weekly web video series"Social Marketing Cluster Facts," a weekly blog series entitled "Psychographic Targeting Hot House" and numerous industry speaking engagements.
The award-winning campaign drove nearly 5,000 "Aimclear" web searches, helped increase revenue by 53 percent (from $7.3 million to $11.2 million) and resulted in significant earned media exposure to an even broader audience.
Of the media exposure generated, most notable was a significant article in the Wall Street Journal detailing Aimclear's targeting strategy. The WSJ writer was among influencers targeted throughout the psychographic amplification campaign.
Weintraub noted, "When a Wall Street Journal reporter calls on the phone and says 'are you guys targeting me somehow in social media?' and it leads to national exposure, it's clear we're redefining how PR should be done in the digital era."
In its fourth year, the US Search Awards recognize agencies and professionals throughout the industry for excellence in search marketing, pay-per-click (PPC) and digital marketing. In 2013, Aimclear Founder Marty Weintraub received the US Search Personality of the Year Award. In 2015, Aimclear received awards for Best Low Budget Campaign and Best Use of Social Media in a Search Campaign.
Pubcon is a premier social media and search optimization conference held each year since its inception in 2000. The event draws marketing and search engine experts from more than 130 countries.
About Aimclear®
Aimclear® is a Minnesota-based digital marketing agency widely regarded for data-driven tactics, integrated search, social, public relations, design and development services. Since 2007, the agency has pioneered cutting-edge creative strategies and psychographic audience targeting. Aimclear has offices in Duluth and St. Paul, Minnesota. For more information, visit aimclear.com.