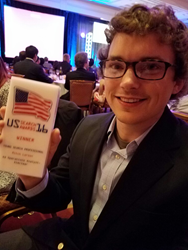 "A technical and social force, Mitch is inventive, confident and a brilliant team player." -Marty Weintraub, Aimclear Founder
DULUTH, Minn. (PRWEB) October 13, 2016
At age 24, Mitch Larson of Duluth is making a national name for himself in search marketing, being awarded one of two Young Search Professional of the Year honors during the 2016 US Search Awards. The search marketing pro is one of the rising stars at Duluth-based Aimclear®, a Minnesota-based marketing agency dominant in audience targeting, marketing, search engine optimization and creative content development. Larson received the award last night during the annual US Search Awards gala, which has become a key part of the yearly Pubcon marketing industry conference.
Larson joined Aimclear in October 2015 as an ad operations specialist and quickly progressed to ad operations analyst and then to Omnichannel ad ops manager. In his current role, he is responsible for delivering against key performance indicators in mashed-up paid search, social, display, shopping, retargeting, attribution analytics and creative elements.
"Mitch exemplifies all we seek in smart, sophisticated agency professionals," said Marty Weintraub, Aimclear founder. "A technical and social force, Mitch is inventive, confident and a brilliant team player. Mitch's ad ops expertise helps shape how our company serves clients today and into the future."
The submission for the Young Search Professional award hinged on a case study of one of Aimclear's clients, a large international moving company. In support of this client, Larson went beyond common pay per click metrics to truly understand the client and its business. He led a modern, industry-dominating campaign that helped drive a substantial increase in convertible clicks at 8.2 percent lower cost per converted click over six months. The program helped substantially boost the client's revenue.
Of the success, Aimclear's client noted, "Working with Mitch and Aimclear has been one of the best partner relationships I have experienced in 20+ years of business. His skills are top notch and if he does not have an answer to a question, he knows exactly where to find it quickly."
Outside of his career at Aimclear, Larson is an outdoors enthusiast and currently serves on the education staff with the American Association of Snowboard Instructors.
About Aimclear®
Aimclear® is a Minnesota-based digital marketing agency widely regarded for data-driven tactics, integrated search, social, public relations, design and development services. Since 2007, the agency has pioneered cutting-edge creative strategies and psychographic audience targeting. Aimclear has offices in Duluth and St. Paul, Minnesota. For more information, visit aimclear.com.